How can I design a product using Printify's AI Image Generator?
Note
The AI Image Generator is currently in beta and available to a limited number of merchants.
In this article, we will explore how you can make the most of Printify's AI Image Generator to bring your creative vision to life. Whether you're an experienced designer or just starting out, keep reading to learn about effective prompting techniques that will help you turn your ideas into stunning, professional-grade products.
You have 15 free attempts per day to generate images in Printify. Each used attempt is restored after 24 hours. In later releases of this feature, you will be able to purchase additional attempts.

labrador wearing sunglasses, green background, enclosed in a circle, oil painting, Renaissance
Note
Before publishing or ordering the product, it is important to take into account the limitations of color range in different printing methods. In general, all-over printing (AOP) can support bright colors, while direct-to-garment (DTG), direct-to-film (DTF), and other printing methods may result in muted outcomes. Visit our
Must-Read Design Guide
to learn more.
Step 1: Select a product
Start by selecting a product from our catalog and opening the Mockup Generator.
Step 2: Generate AI designs using a prompt
Select "AI Image Generator" to proceed to the next step, where you will need to input a prompt.
A prompt is a descriptive word or phrase used to generate an AI image. To create successful prompts, be specific about the desired image and include style modifiers or keywords for added detail. To ensure your creative vision is realized, follow these prompt guidelines:
Choose the main object: Start by selecting the main object for your prompt, such as "mountain", "ladybug", or "labrador wearing sunglasses". The main object can consist of one or multiple elements.
Choose the setting: Determine where the scene is taking place, such as a "forest" or a "city". You can also specify the color of the background, like "green background". If you have a specific concept in mind, include it in the prompt, such as "[main object] enclosed in a circle".
Add the finishing touches: Enhance your prompt with descriptive adjectives that convey the desired image quality or mood. Consider terms like "professional t-shirt design", "highly-detailed", "soft", "cute", "somber", or "washed-out", among others.
Choose the image style: Choose the desired image style from the available options. If you have a different style in mind, select "None" and include additional modifiers in your prompt. You can use modifiers that emulate specific art styles like Pop Art, Renaissance, Minimalism, or Geometric, as well as textures like 3D, and more.

labrador wearing sunglasses, vector, green background, enclosed in a circle
The resolution of the generated images is 512 × 512 pixels. If you're designing products that require higher resolution designs, don't worry. We will automatically upscale the image to meet the necessary requirements when sending the order to production.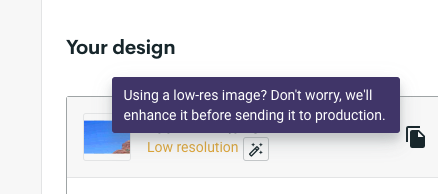 Note
The images generated by the AI must not include any elements that infringe upon the intellectual property rights of others or contain any
prohibited content
.