Are there any special requirements for sales channels to use Express Delivery?
To ensure accurate and speedy delivery of orders, it is necessary to obtain the customer's first and last name, along with their phone number for Express orders, as Express orders rely on courier delivery services. As a result, Etsy and Shopify sellers need to modify their store settings accordingly.
This information is already captured by default in the case of Walmart, ensuring a smooth integration with Express Delivery.
Etsy
In Etsy, a phone number field can be added to the product listing as a part of Etsy's personalization feature. The number entered in this field will automatically import as the customer's phone number in Printify.
To set this up, use Etsy's bulk editing feature:
Select all Express Delivery products in Etsy.
Click Editing options and select Edit personalization.
Add the text "Please provide your phone number to ensure express delivery" in the Instructions for buyers field.
Click Apply to save the changes.
The first and last name are already mandatory by default and do not require any additional setup.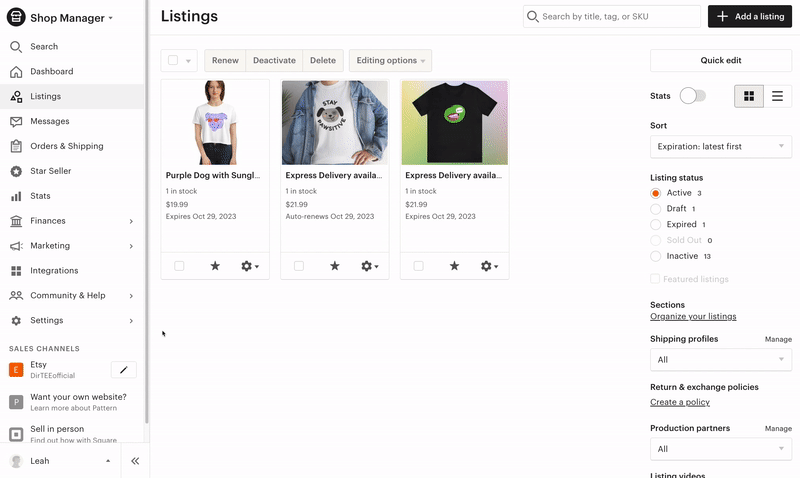 Note
Orders that have an invalid phone number will be placed "On hold" in Printify until a valid phone number is added in the system – we'll notify you about such orders by email. It should be pointed out that for these orders, the countdown starts from the moment when the order status has changed to "In production".
Shopify
In Shopify, you have complete control over your store's checkout settings. To make the required adjustments, follow these steps:
In Shopify, go to Settings → Checkout → Customer information.
Select the following options:

Full name (choose "Require first and last name")
Shipping address phone number (choose "Required")

You may leave the remaining settings as optional.
Click Save to save the changes.