How can I enable Order Routing?
To never miss a sale due to out-of-stock issues, you can enable our Order Routing feature. It will automatically route your order to the most suitable alternative Print Provider.
Order Routing is enabled on a store level. In case you have multiple stores, you'll need to enable it for each store individually.
Step 1: Navigate to store settings
Start by navigating to your store settings, then click on Order settings. Here, you will immediately see Order Routing.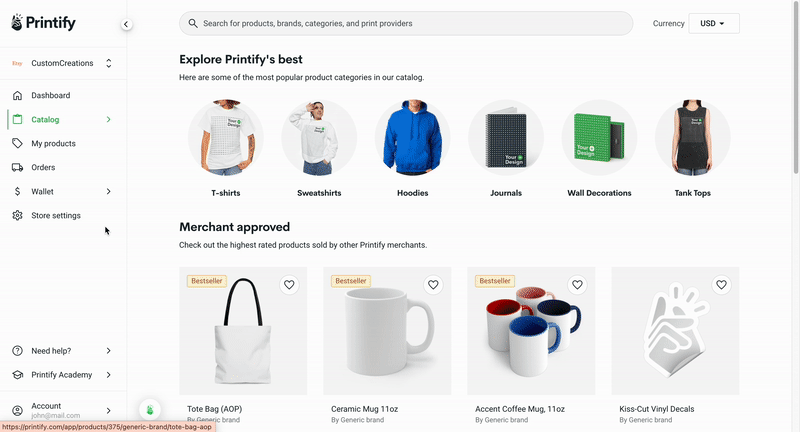 Step 2: Check the box next to Enable order routing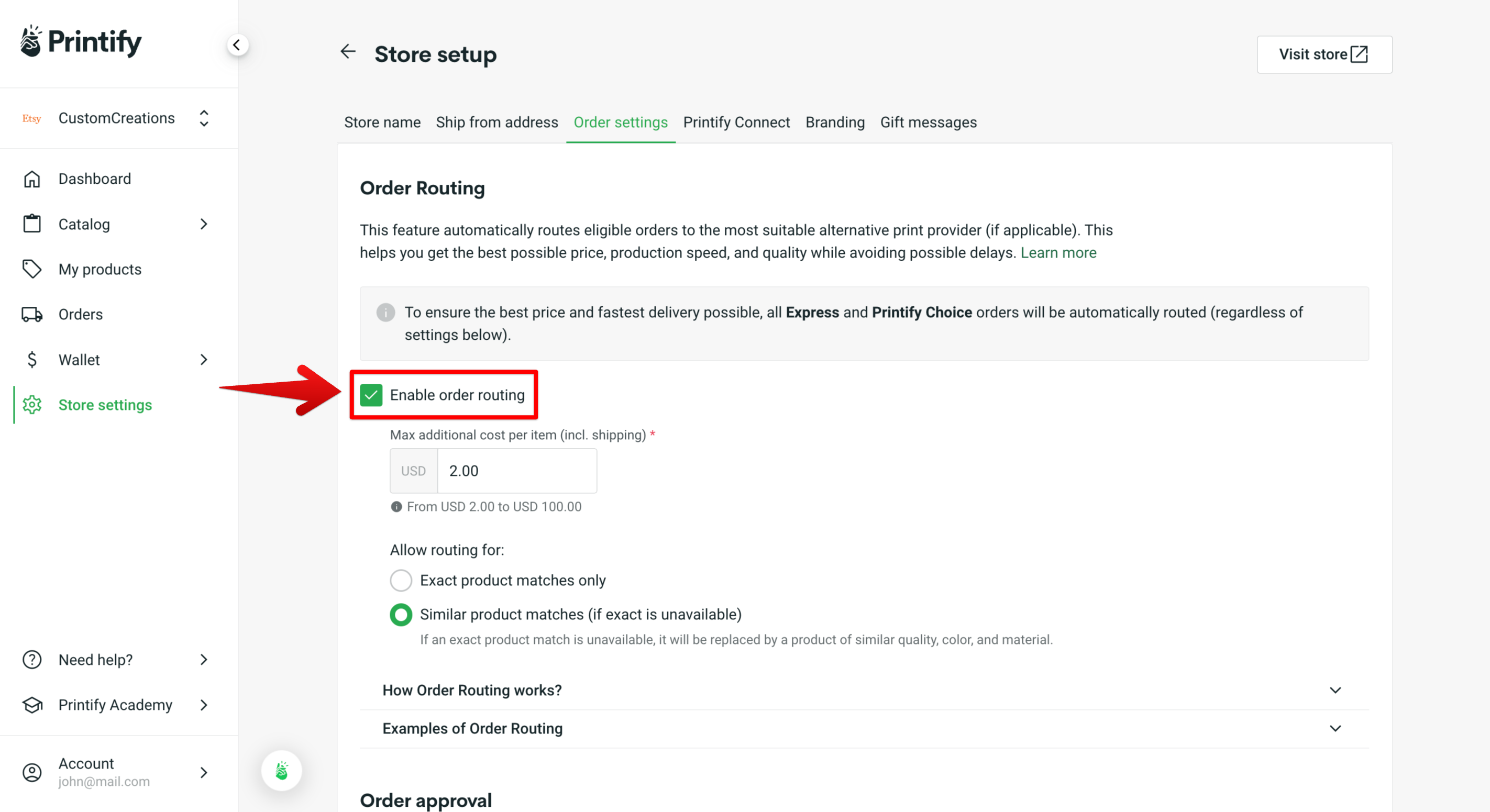 Step 3: Adjust the setup preferences if needed
If necessary, adjust the maximum additional cost (per item) setting and decide which products to allow routing for: exact product matches or similar product matches.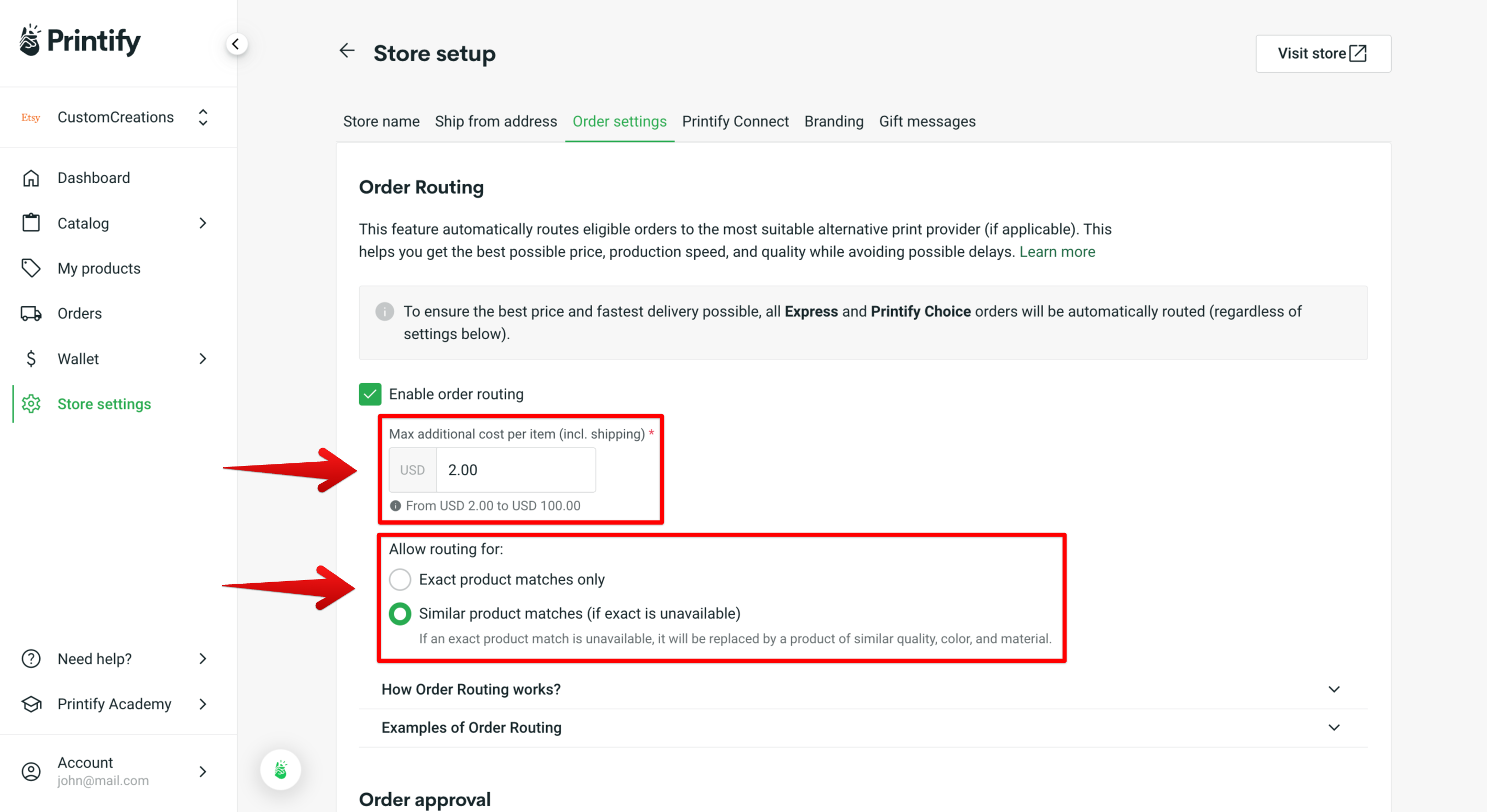 Maximum additional cost (per item)
Our algorithms will search for the most cost-effective alternative Print Provider offering the same fulfillment options, giving priority to domestic facilities. However, the difference in product price should not exceed your predefined cost per line item, which includes production and shipping costs. The default additional cost is set at USD 2 but can be adjusted up to USD 100.
If the price exceeds this limit, the order will be placed "On Hold", awaiting further action on your part.
You will be able to view a detailed cost breakdown of the routed order when you open the order details.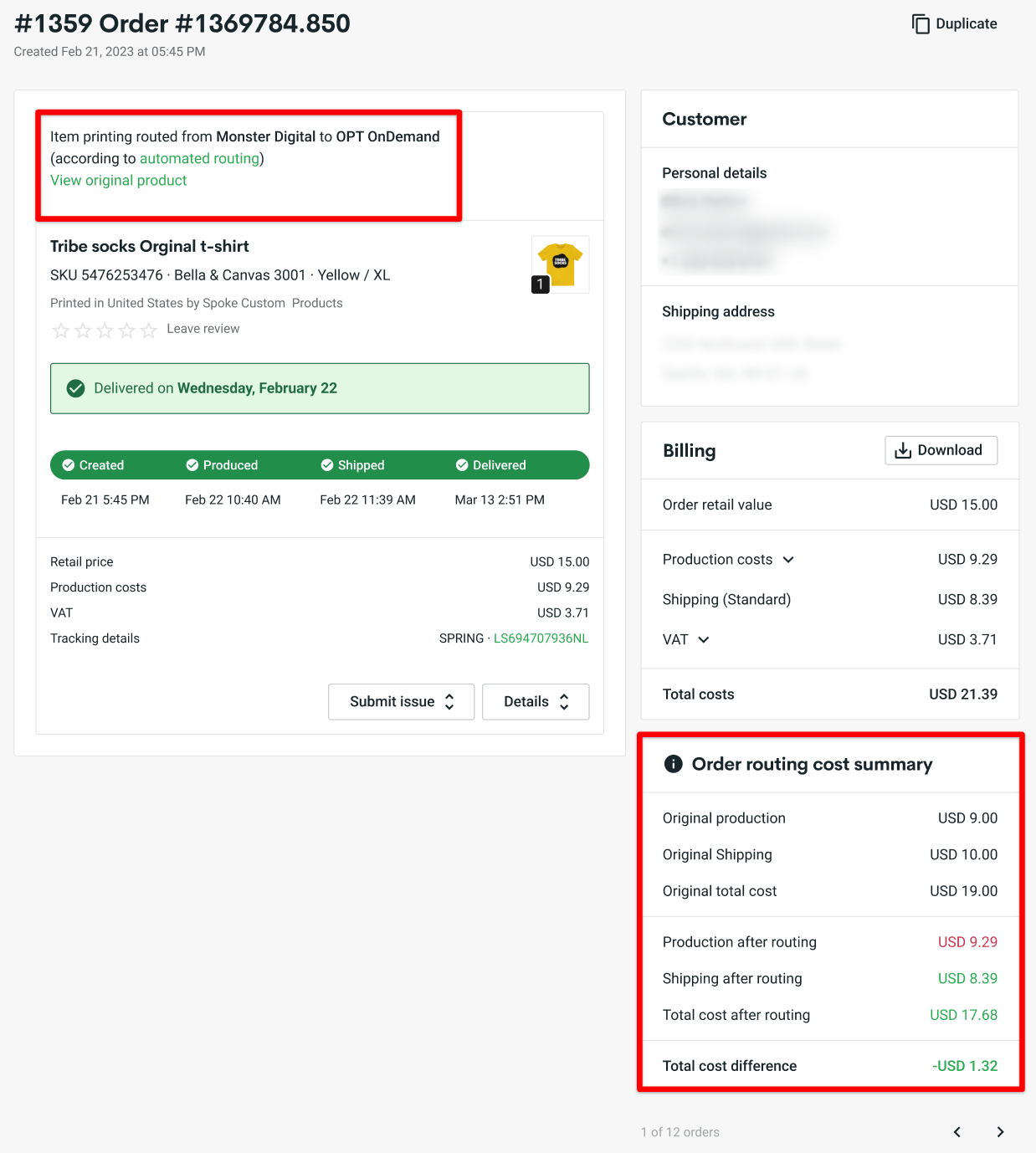 Use only exact product matches
By default, Order Routing is set up so that if the exact product is unavailable, it will be replaced with the closest matching product in terms of quality, color, and material.
However, if using the exact product is essential to you, tick the box next to "Use only exact product matches". If there are no exact alternative matches available, such orders will be placed "On hold" and await your further action.
If a substitute is found, the order will resume the fulfillment process. Please note that your design file might be downscaled if the print area for the chosen substitute is smaller than that of the original product.
If our system is unable to find a substitute, the order will need to be manually edited to proceed to production by switching the product in use. Alternatively, you can choose to cancel the order and receive a refund.
Only exact product matches will be used by default in the following cases:
When Express Delivery orders get routed.
When an order, or some of the products within the order, get routed from multiple Print Providers to a single Print Provider to decrease production and shipping costs.
Step 4: Adjust the settings if needed
If necessary, adjust routing preferences such as order approval, tracking notification settings, automatic order processing, and email preferences. Then, click Save.