How much will I make per sale?
The prices you see in the Printify catalog are the production prices. In addition to shipping charges, they make up the total cost merchants pay for a product.
The profit you will make depends on how high you set your product retail prices. Here's an example:
Imagine you are selling this Men's Short Sleeve Tee by Delta. You'll see several Print Provider options for this shirt.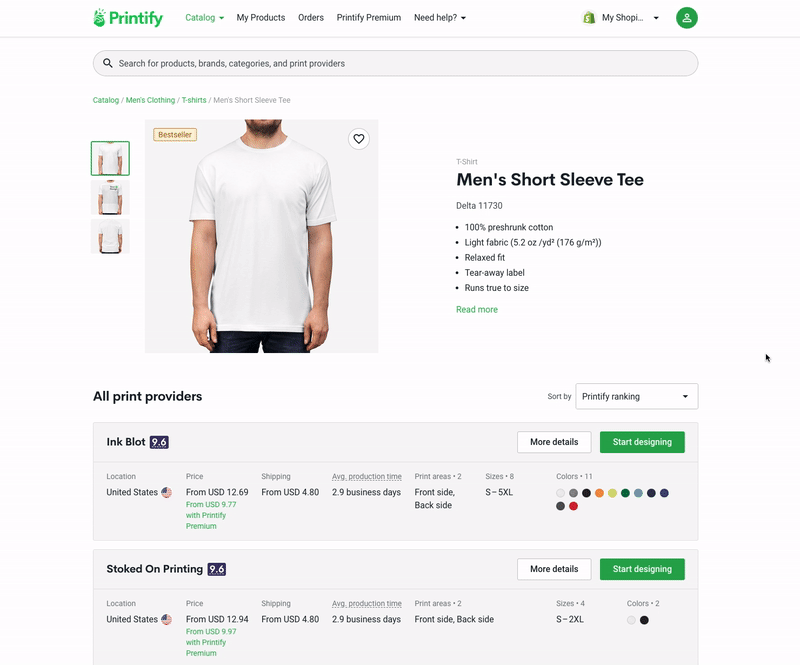 As you can see, each provider has a different t-shirt color availability, base price, print areas, location, and other differences. If you can't decide which Print Provider to choose, you may want to check this article.
Let's say you've chosen Ink Blot as the Print Provider for this product. Then you would be starting with a base price of $12.69 (excl. tax). This price includes the blank t-shirt and a front print.
Note
Additional print areas (i.e., a neck label, sleeve print or a back print) can be added to garments for an extra charge. Garments of size 2XL and upwards have a higher production price.
To see the pricing of each product variant, the associated shipping rates, and additional production information, click on the More details button.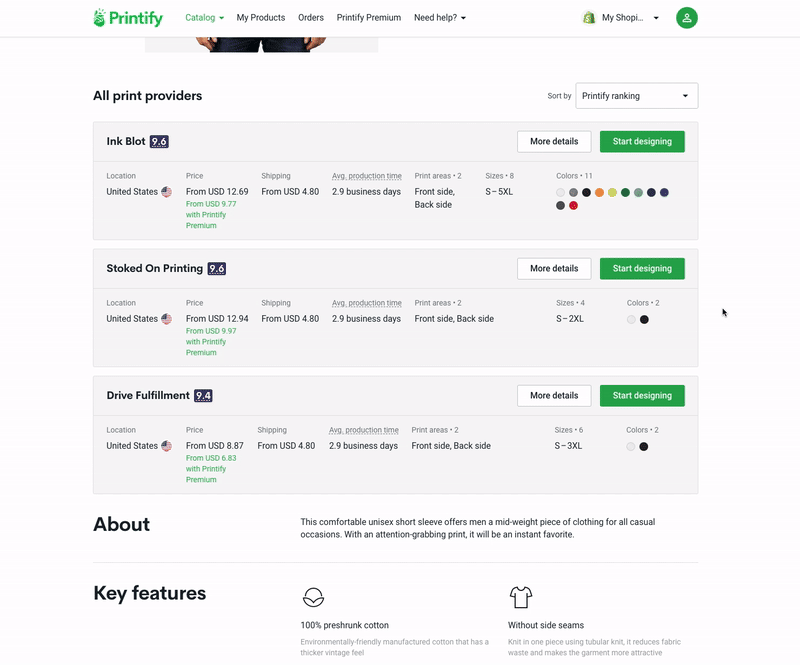 Assuming you would be shipping within the United States, the shipping cost for a single shirt will be $4.80. Typically, you would charge your customer the same shipping cost so that the customer is paying for the order shipping.
Since garments in size 2XL and up have a slightly higher production price, the suggested retail price in Printify will be increased proportionally. However, you can also use one retail price for all size variants of the t-shirt.
Let's say you decide on a retail price of $26.99 for all size variants. In that case, your average profit would be $12.62 (or 47%).
The retail price you choose for your products is completely up to you, however, we recommend a minimum profit margin of 40% for your business to grow with Printify.
Here are some things to consider when setting up prices for your products:
What is the average price for similar products on the market?




Should you charge more than the average price? How can you add extra value to your product so your customers would be willing to pay more?




Where are the majority of your customers likely to be located? Should you choose a local Print Provider to reduce the delivery time and shipping costs?




Will you be offering

free shipping

in your store?

This could be a good sales trigger; however, remember that you'll need to add that amount to the product retail price to absorb the

shipping costs

.

Will you use various sales strategies to drive sales, like frequent discounts? Think about the price you want to charge and make sure that the price after the discount is applied in your store.

To learn more about the different pricing strategies, make sure to check out our video: