How do I set up shipping for my Wix store?
We recommend choosing between two shipping setup options for your Wix store: "free shipping" or shipping rates by product. "Free shipping" will be a suitable option for you if you expect most of your customers to be in one area or country (for example, in the USA).
Alternatively, you can set up shipping rates by product. This means you'll group similar products together and assign a flat rate to each group.
In this article:
Free shipping
The idea is to include each shipping fee within the retail price of your product. In other words, your products will appear to have "Free Shipping"; however, the shipping price will be included in the final amount the customer will be paying.
If you choose this shipping setup approach, you'll need to manually increase the retail price of the product before publishing it to your Wix store. The shipping cost will be displayed in the pricing table: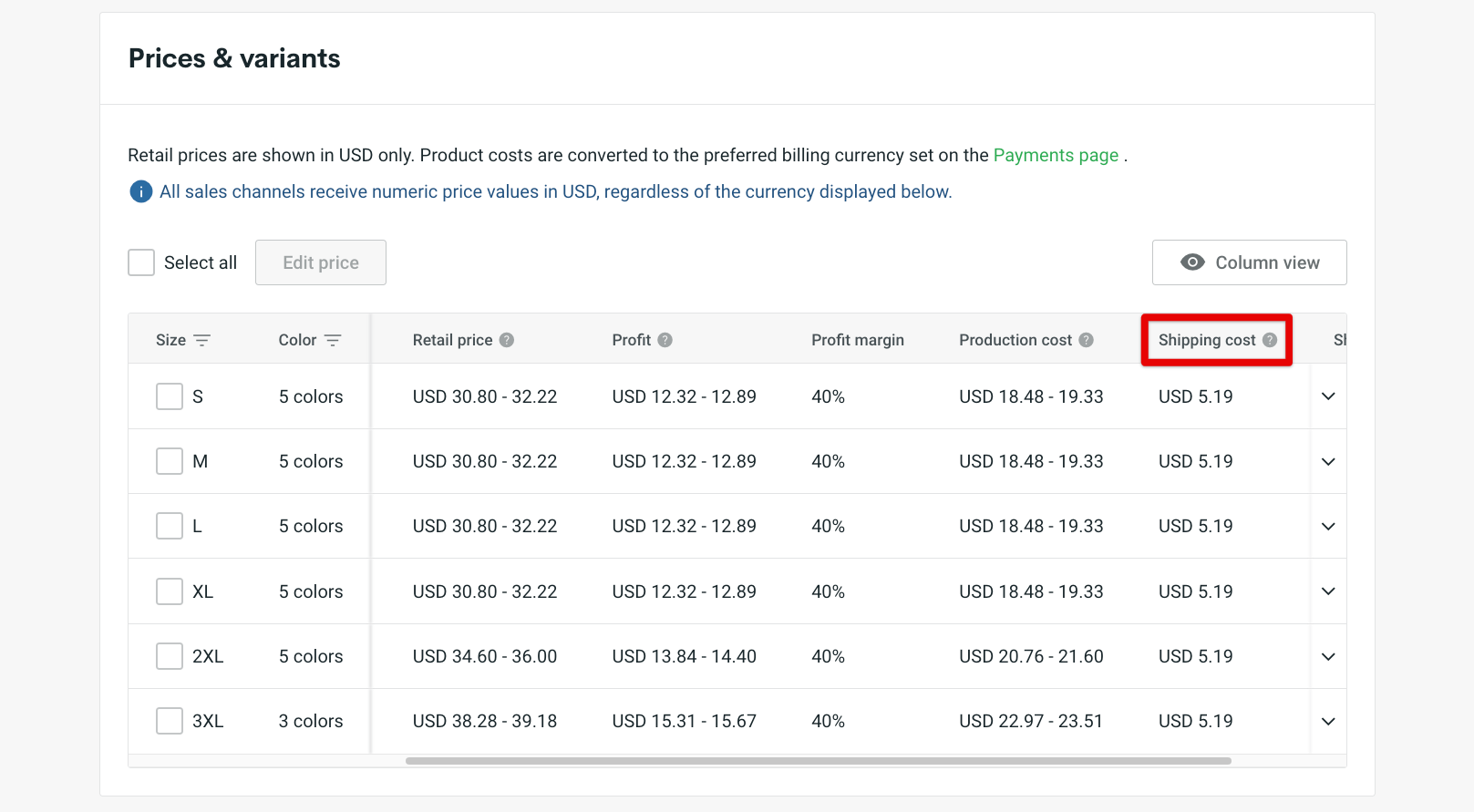 Note
In Printify, you'll still be charged with shipping costs as usual. Using this method, you are charging the customer with the shipping cost already included in the retail price.
Due to the vast differences in the shipping rates for different destinations, we'd recommend disabling all other destinations in your Wix store shipping settings. Please note that this means that those customers won't be able to check out in your store.
Navigate to the "Settings" → "eCommerce & Finance" → "Shipping" in Wix to enable free shipping.
Shipping rates by product
This option will require more time to set up, so it will be most suited to those of you looking for a more long-term solution. However, the set-up is a one-time task, so you won't need to worry about it once it's done.
Note
Unfortunately, Wix doesn't support adding reduced shipping rates for an additional product. Thus, our recommended approach for Printify users is that you charge the full shipping rate for each product (even if the customer wants to purchase multiples of the same).
How to set it up
1. In your Wix account, navigate over to the "Settings" → "eCommerce & Finance" → "Shipping".
2. Now that our shipping settings are open, click Add Region and add the countries you are looking to distribute your orders to. Typically, merchants will add at least 3 shipping regions: Domestic (USA), Canada, International (Rest of the World).
3. Click "Edit Shipping Rule" next to a region, and you should see an option to change shipping based on different rules.
In this tutorial, we'll use the "Rate by Product" option, which allows you to group similar products together and assign a flat rate to them.
4. Next, click Create Groups just below. Create one or more groups of similar products (e.g., based on the product type) and assign your products to those groups.
You can use the "Default" group as one of the groups as well, just rename it. Note that any new products will be automatically added to the default group – you'll need to manually assign them to a different group, if needed. For example: If you're selling t-shirts, phone cases and mugs, we'd recommend creating 3 such groups.
5. Now that the products are divided into groups, you'll need to set flat rates for each group and each region, based on Printify's shipping rates. As an example, the image below shows the flat rates for the USA.
If you're selling products of the same type (e.g., phone cases) that are fulfilled by different Print Providers, the shipping rates are likely to be slightly different. To keep things simple, we recommend simply using the average as your rate for all phone cases.
6. Repeat the same steps for all of your regions, based on our shipping rates.
7. As the final step, log out of your Wix account, navigate to your storefront, and test the rates by putting some products in the shopping cart.
Need some extra help with your shipping setup? Get in touch with our Merchant Support team by clicking on the chat bubble.