How can I set my own custom SKU numbers?
A stock-keeping unit (SKU) number is a unique code that identifies a product in a system. In Printify, a SKU number is one of the ways in which your store product is linked to Printify.
Although the print-on-demand (POD) business model doesn't require inventory tracking due to its unlimited nature, a clear SKU system can be helpful in finding specific product variants and identifying popular ones in your store.
Note
To use custom SKUs for your products, you'll need to have the feature enabled. Simply
submit a request
to our Support Team to request activation of this feature.
To set up a custom SKU
Once the feature has been enabled for your account, open the product details by clicking on the product card of the chosen product.
Scroll down to the Pricing section and edit the SKU field by clicking on it.
Enter a custom SKU for each variant.
Select Colors, sizes, prices, and SKUs under Sync product details. Other product details can remain unchecked.
Click Publish

to save the changes.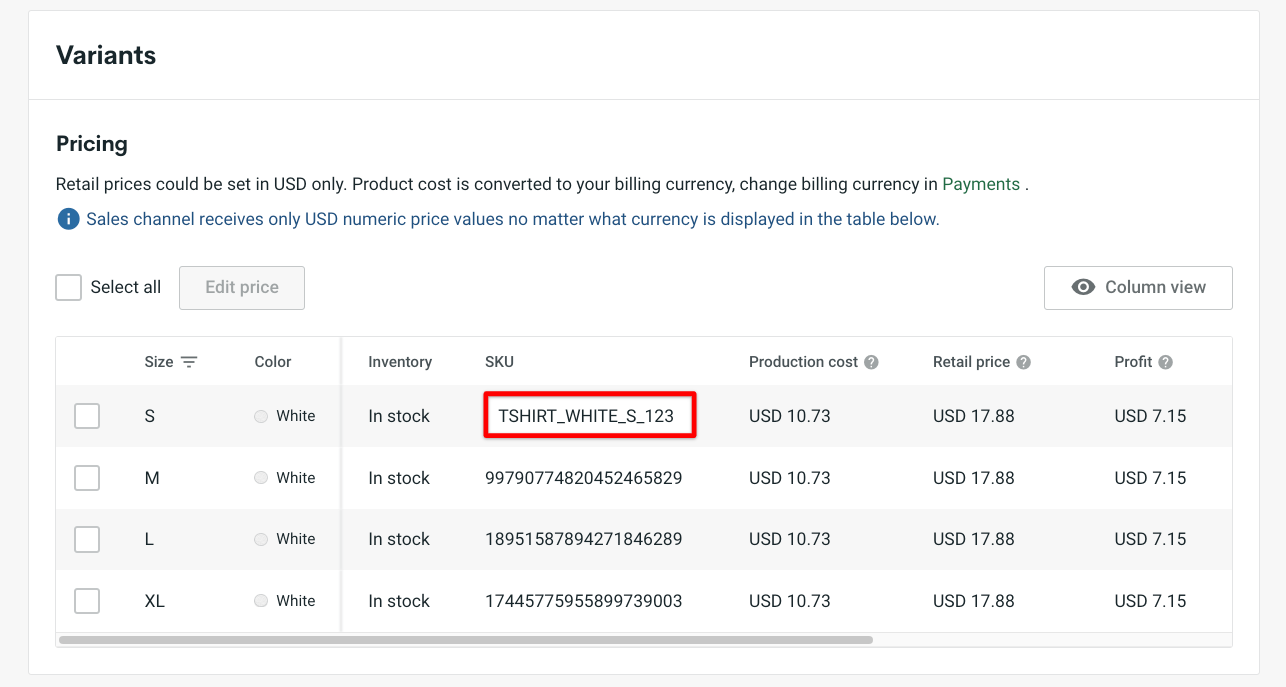 Best practices for custom SKUs
Edit the product SKUs from the Printify side
We strongly recommend setting up custom SKUs by editing the SKU number from the Printify side and republishing the product. This will ensure that the custom SKU is the same in Printify and in your store, and eliminate any human errors that might otherwise occur.
Make your SKUs easy to understand
It is best practice to create custom SKUs that include the easily identifiable parameters of a product variant. What is more, it can be useful to arrange the product details in order of importance.
Pay attention to the following aspects of a product and use them in your custom SKU:
Color
Size
Type
Collection
Design
For example, let's say you have a "2023 Summer Collection Ice Cream Tee" in your store.
In this case, for the Yellow / Large variant, a good custom SKU might be "S21T_ICE_Y_L", where:
"S21T" stands for "Summer Collection 2023 Tee"
"ICE" stands for the "Ice Cream" design
"Y" and "L" stand for color and size variants, respectively
Note
The SKU number of each product variant must be unique.
Don't use letters that look like numbers, spaces, or symbols
Avoid using the letter "O", which can be mistaken for "0"
Avoid using the capital 'i' and lower case 'L' ('I' and 'l' respectively)
It is not possible to use spaces when setting your customs SKUs in Printify; therefore, we suggest substituting spaces for "-" or "_"