Will my design be scaled up or down based on the garment size?
To achieve a consistent visual outcome across all garment sizes, we will automatically scale down the design for smaller apparel sizes; however, it will not be scaled up for sizes larger than L. The design is scaled down using the same aspect ratio across all sizes.

Note
Our Mockup Generator shows the L-sized apparel and allows you to place the design on that size only. The print area visible in the mockup template (dashed line on the product) and the mockup preview won't change when you select a particular size, as it always displays the print area of the L-sized apparel.
Within the next month, we will gradually introduce print area scaling to Direct-To-Garment (DTG) products that do not currently have scaled print areas based on garment size. That means we will adjust the print areas of garments in sizes smaller than L for the affected products. With this update, all DTG products will have print area scaling in place across multiple sizes.
If you're selling products that were not previously scaled down, note that there is no action required from your side as the changes will happen automatically. However, in case you have custom mockups in your store for sizes XS-M (e.g., custom photoshoot with the garment in size XS), those should be revised to reflect the new design size.
Scaling will be implemented gradually based on the product type to give you more time to adjust if necessary. The list of products affected, the changes in print sizes, and the implementation plan are all available here.
How are print areas calculated?
Print areas are calculated based on the garment width, measurement changes from size to size, and the print pallet size used by a Print Provider. In general, reduced garment width and size L print area fill (that is reflected in the mockup) dictates the outcome on M, S and XS sizes.
Note
Smaller garments tend to be narrower than larger sizes, however, print areas keep the same aspect ratio throughout all sizes. This is why the outcome may look a bit different for each size.
Are print areas scaled identically for all Print Providers?
No, they are not. This is due to differences between Print Provider pallet sizes, which may be different for each Print Provider.
How can I find out the print area size of a certain product variant?
In the Mockup Generator, click Prices & variants in the upper-right corner. Deselect all sizes except for one you are interested in, and make sure that you have only selected one color. Next, click Update and you will see a change in recommended print file size dimensions in the side panel (in pixels, which will need to be converted to inches).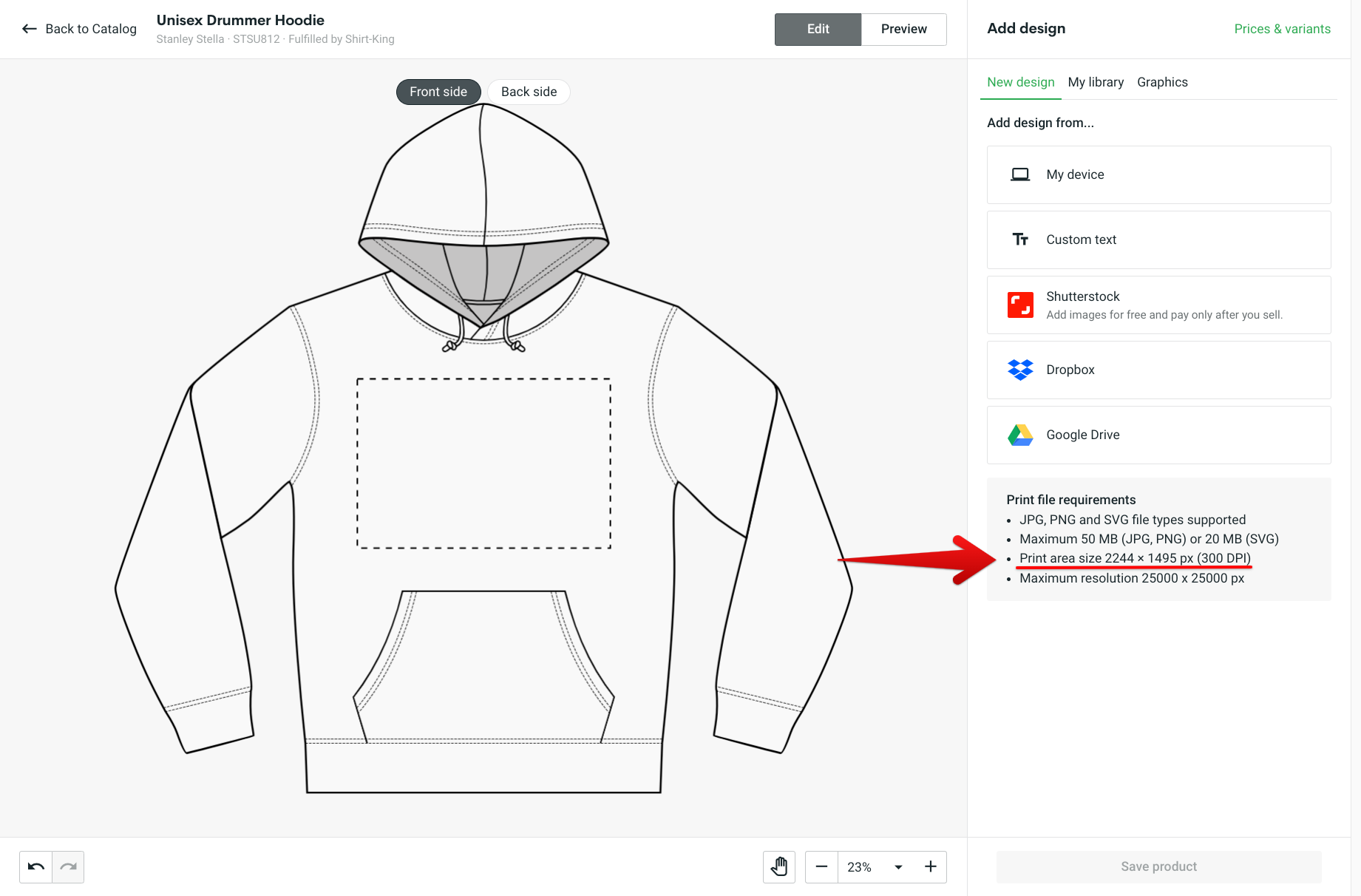 How do I adjust my custom mockups for the affected products?
If you created your custom mockups using a design tool or mockup creation service (e.g., Placeit), you should check the aspect ratio of the L-sized print area and compare with the smaller-size print area to scale your designs properly on sizes XS-M.
If you're using custom mockups from a photoshoot for sizes XS-M, we recommend ordering samples of the affected products to ensure your mockups accurately represent the new print areas. While you're waiting for samples to arrive, we recommend using the Printify mockups or creating them through services like Placeit.
Is it possible to opt out of the new scaling changes?
Unfortunately, it isn't possible to opt out of these changes and keep the previous print areas where the design was not scaled down.