How can I set up personalized gift messages?
Set up the personalized gift message feature for your connected Etsy store by following the steps below. Once enabled, a gift message insert will be added to all Etsy orders that are labeled as gifts and include a customer's message, provided they are fulfilled by one of the supported Print Providers.
Note
Gift messages are currently unavailable for manual orders and
Express delivery
orders, and may also be limited by
Order Routing
. Please be aware that refunds are not currently available for inserts.
Step 1: Navigate to your store Gift settings
To set up the gift message feature, start by navigating to the Store settings → Gift settings tab. Here you will see a preview of the default gift message insert. If you'd like to use the default template, simply turn on the switch and skip the next steps.
If you prefer to personalize the template, click Edit template to open the Mockup Generator.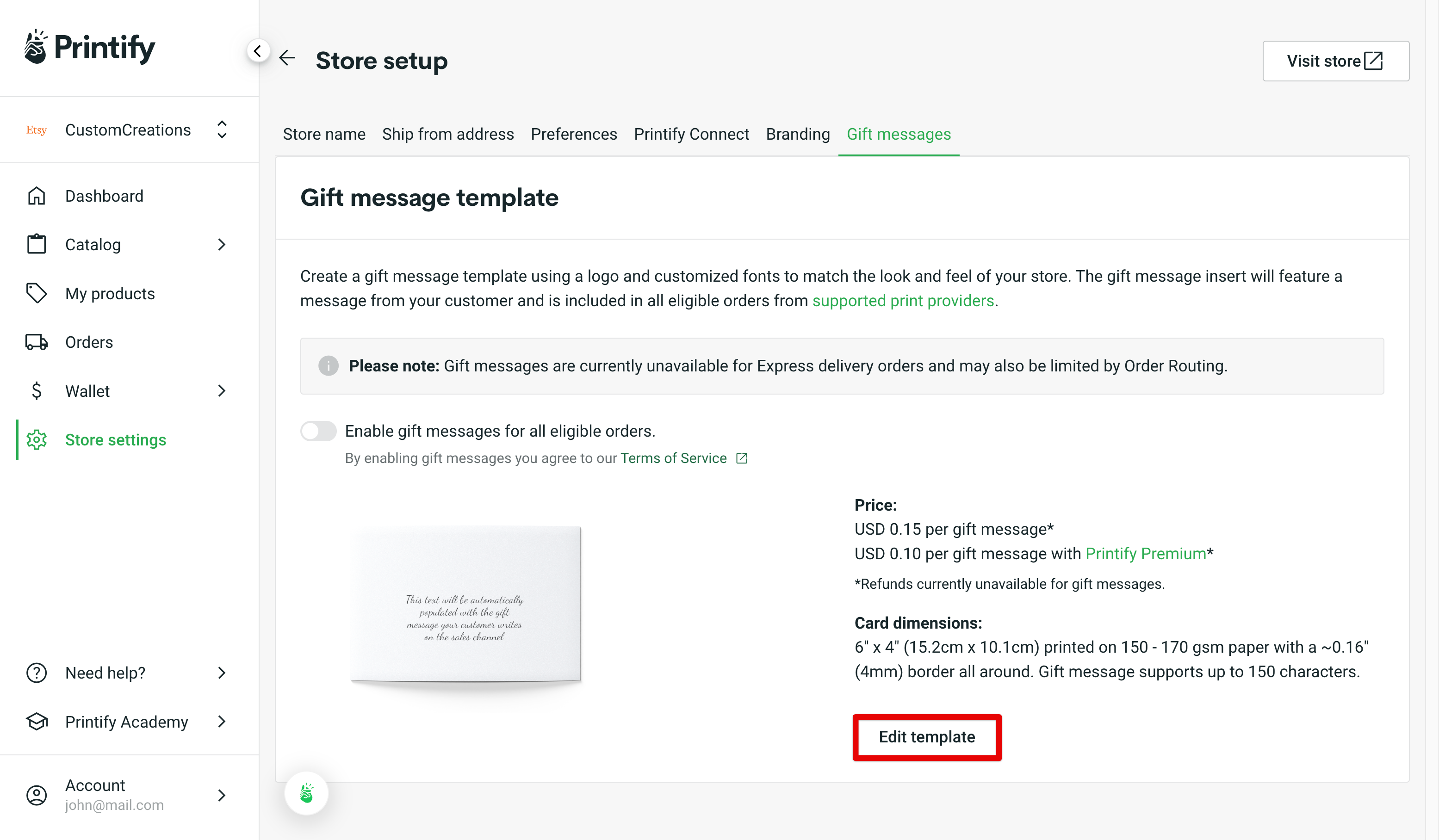 Step 2: Customize your gift message template
Now, personalize the gift message template according to your preferences by adding a background color, images, store name, and/or a coupon code.
The template's text serves as a placeholder that will be automatically replaced by the customer's gift message. You can adjust color, font, and alignment, but not its size or position. Click Save template once you're satisfied with the result.
Note
The customer's message is automatically populated and cannot be edited for already placed orders. Additionally, the text formatting may vary slightly depending on the width of your selected font. If a customer enters non-Latin characters and the chosen font doesn't support them, our system will automatically switch to a compatible font.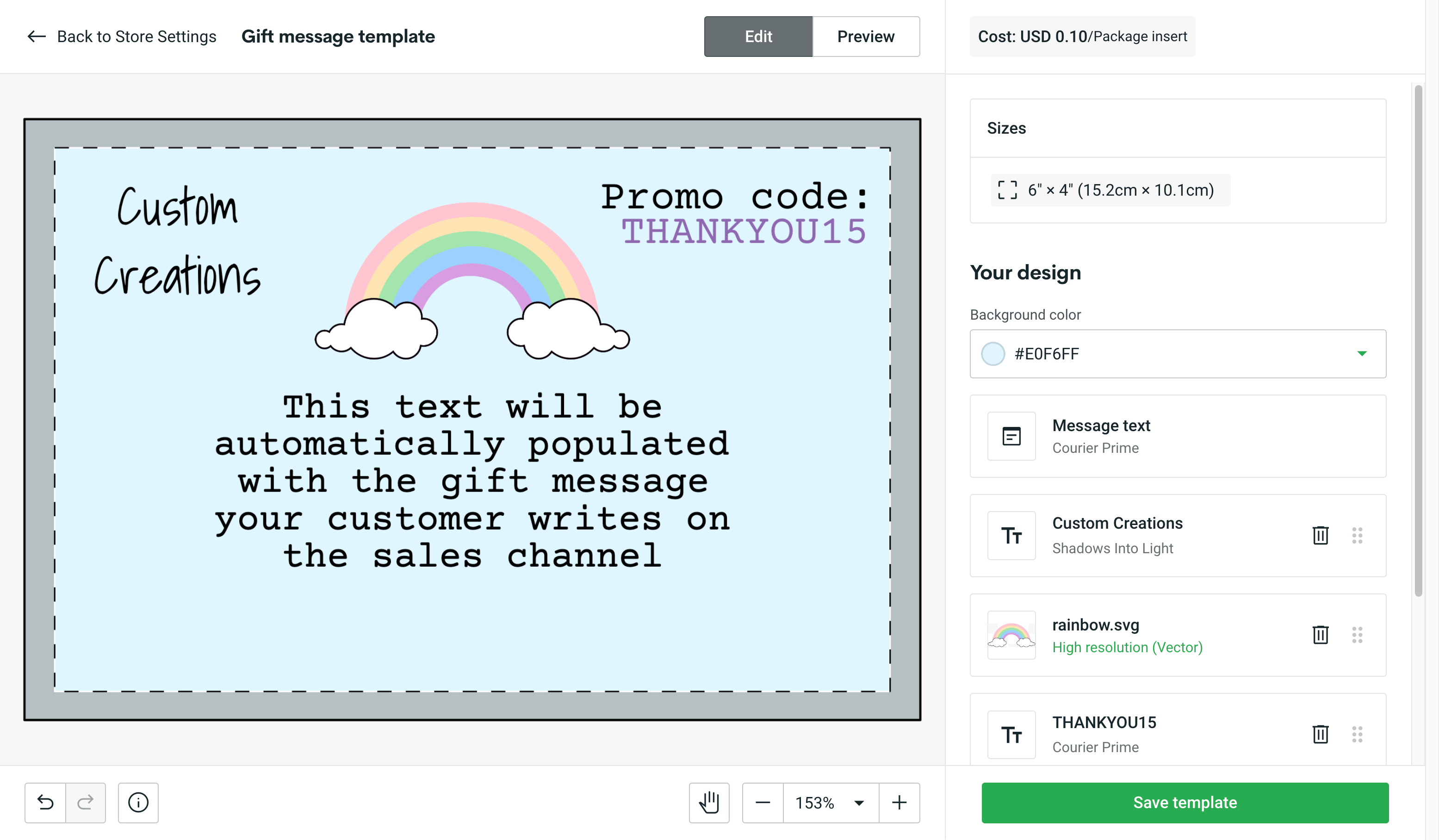 Step 3: Enable the gift message feature for your store
After saving the template, you'll see a preview of the gift message insert. Turn on the switch to enable the gift message feature for your selected store.
Going forward, the gift message insert will be automatically included in all Etsy orders marked as gifts and containing a gift message, if fulfilled by a supported Print Provider. If an order consists of multiple shipments from different supported Print Providers, each shipment will contain a gift message insert.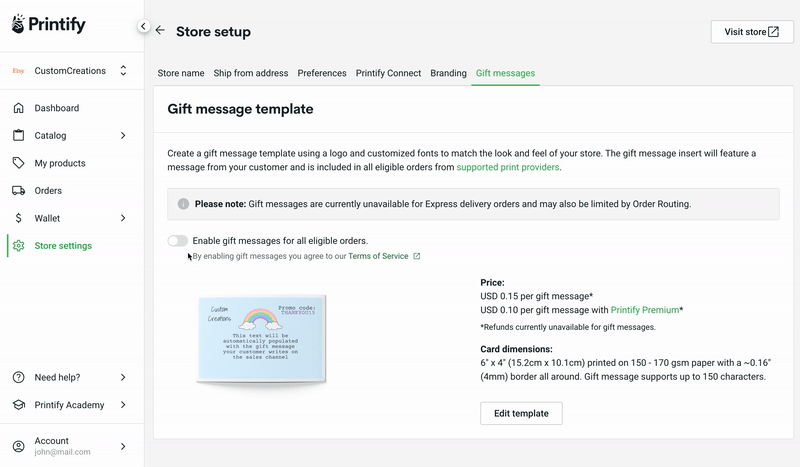 Note
If you previously had disabled Etsy gift messages, please enable them in your
Etsy store settings
in addition to the previous steps.
If you'd like to check if an order includes a gift message insert, navigate to the order details page by clicking on the specific order. Below the ordered products, you'll find a preview thumbnail of the gift message card. Click on it to expand the preview.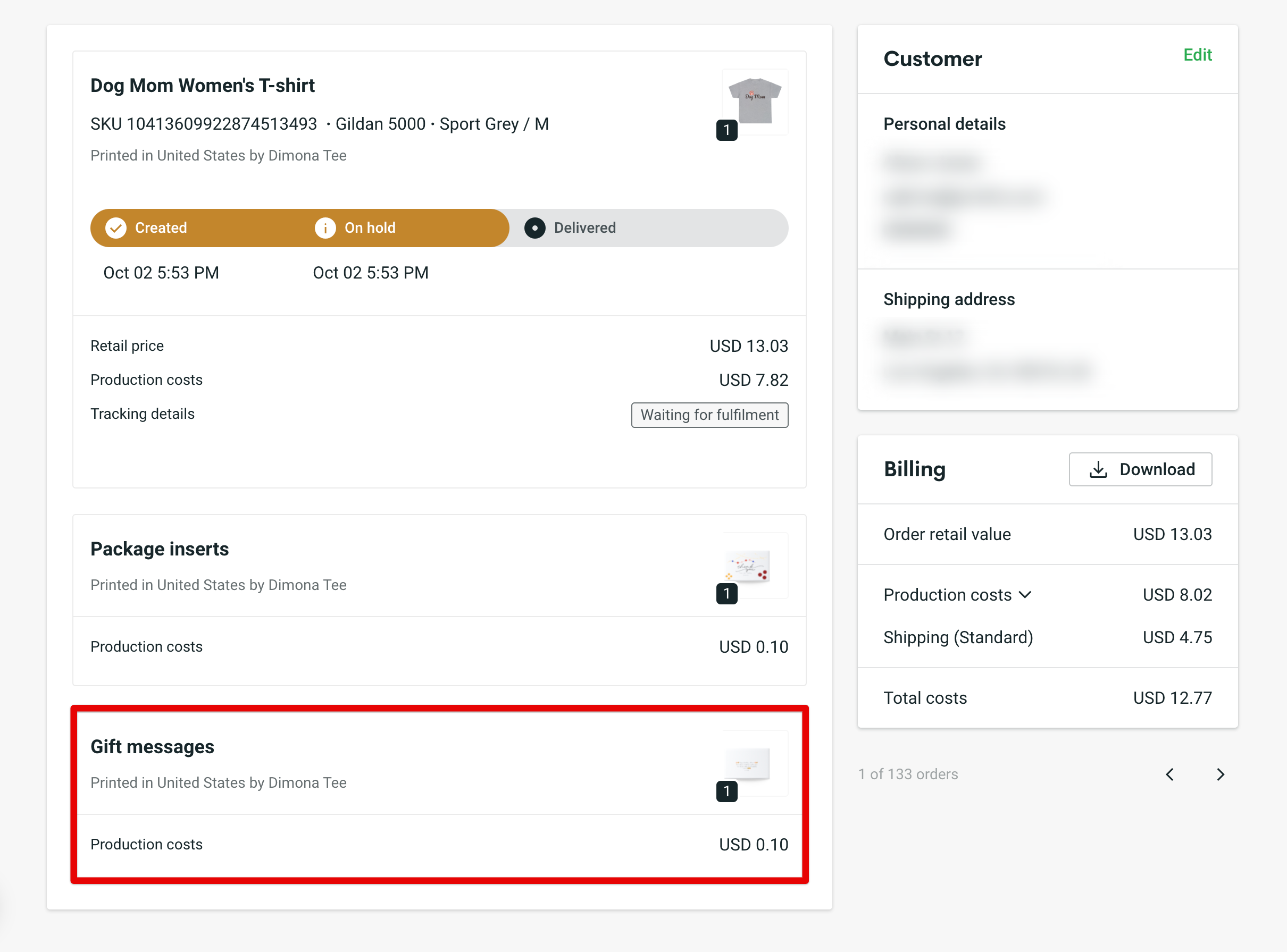 If you have enabled branding inserts for your store as well, note that the order will also include a branding insert in addition to a gift message insert.