How are the products packaged?
Our Print Providers use several different types of packaging, selecting the most appropriate option based on the product type. Extra care is taken to ensure maximum protection of fragile products.
Clothing
High-quality poly-mailer bags, paper envelopes, and cardboard boxes in a variety of sizes (for larger orders).
Shoes
Shoes will be packaged in a cardboard box with a plastic bag for extra protection of the product.
Accessories
Waterproof poly-mailer bags are used for soft products, such as face masks or socks. If required, padded mailer bags are used for extra protection. Phone cases are shipped in padded envelopes or recyclable cardboard shippers.
Posters
Posters and wall decals are protected with tissue paper and shipped in extra thick cardboard tubes (circular and triangular).
Framed posters will be packaged in protective cardboard boxes.
Home & Living
High-quality poly-mailer bags are used for soft products, while cardboard boxes may be used for larger orders. Products that require extra protection will be shipped in padded mailers or cardboard boxes.
Wall clocks are shipped in recycled cardboard boxes with bubble wrap surrounding the clock.
Mugs
Depending on the chosen Print Provider, mugs will be packaged in durable polystyrene boxes or recyclable cardboard boxes with additional inserts for padding.
Note
Actual product packaging may vary and is subject to change.
If you're interested in checking out the expected packaging in greater detail, navigate to our product catalog, choose a product, and select More details → Production.

Label information
The shipping label specifies your store name and the return address. It is possible to set up a custom return address for your orders.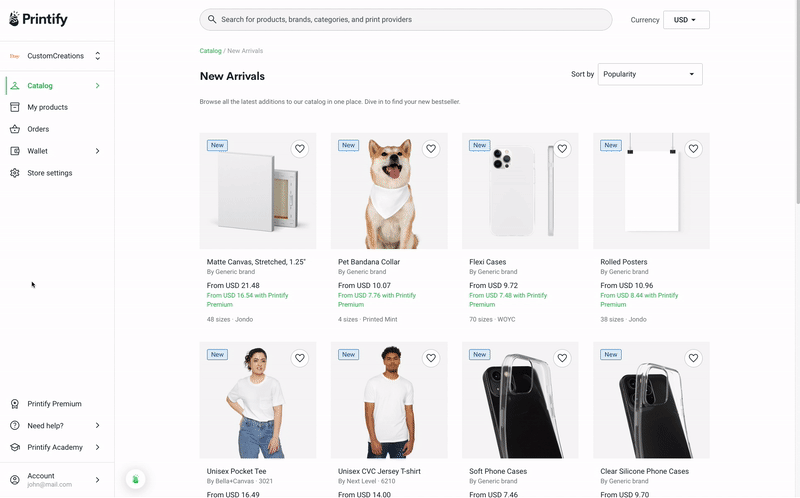 Printify's name does not appear anywhere on the package or the shipping label.
However, please note that there are a few Print Providers that don't support custom shipping labels, which means that your store name will not be displayed on the shipping label (instead, it will say "Fulfillment Center", "Shipping Department", or "Store", for example).
These Print Providers are:
ArtsAdd

Drive Fulfillment

MWW On Demand

MyLocker

Printed Mint

Printed Simply

Print Geek

The Print Bar

T Shirt and Sons

WOYC