How can I get more mockup options?
While most Printify products offer a variety of mockup styles, we understand that the available options may still be limited. To address this, we have teamed up with Placeit, an online mockup library that offers an extensive collection of mockups for various product types.
Note
Custom mockups can be uploaded to any sales channel except for Printify Pop-Up Store.
Watch our video tutorial or follow the step-by-step instructions to create custom mockups using Placeit.
Step 1: Create a product in Printify
Start by creating a product within Printify and selecting one of the available Printify mockups. Once the product is created, publish it to your store.
Step 2: Register with Placeit
To access the Placeit mockup library, start by registering. You can opt for a paid subscription to access all mockups or use the free mockup options. Make sure to create a free account so that you can download the mockup without any watermark.
Step 3: Choose a mockup that resembles the Printify product
Select a mockup from the variety available on Placeit, and upload your design onto it. It is crucial to choose a mockup that closely resembles your Printify product so that your customers receive a product similar to the one they saw in the mockup.
Step 4: Note down the color code of the Printify product variant
In order to make sure that your custom mockups accurately depict your product, you should check the HEX color code of your product variants in Printify and use the same color when creating your custom mockups. To find the color codes, open your product in the Mockup Generator by clicking on the brush icon.

After that, click on Product variants located in the upper-right corner to open the variant menu. Hover your mouse over a specific color and note down the corresponding color code. Then enter the color code into the Placeit product color field.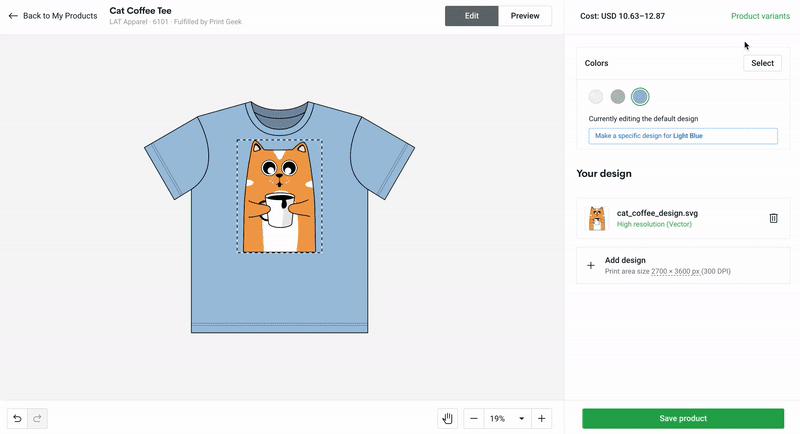 Step 5: Upload the Placeit mockup to your store listing
Next, download the Placeit mockup to your computer and manually upload it to the product listing in your sales channel (not in Printify).
All set! If you later need to republish the product from the Printify side to update some product details, make use of selective publishing to avoid overwriting mockup images. This ensures your mockup images won't be replaced in the process (reverting back to Printify images).
To achieve this, deselect the Mockups option while republishing the product.