What are Performance Scores?
Choosing a Print Provider to fulfill your orders is not always a straightforward decision, there's often a lot of options – you may want to base your decision not only on the product price and the printing location, but also on the production speed or how often a Print Provider experiences problems.
That's why we've created a scoring system that ranks every Print Provider on the Printify platform. Our Print Provider rating system is constantly updated according to data from our checks and customer feedback in order to give you the most accurate possible indication of which Print Provider is the best option for your products.
Performance Scores are visible on each product listing page. The Print Providers will be shown in order with the best performing at the top. To see a detailed score breakdown, click on the Performance Score in our catalog product listing.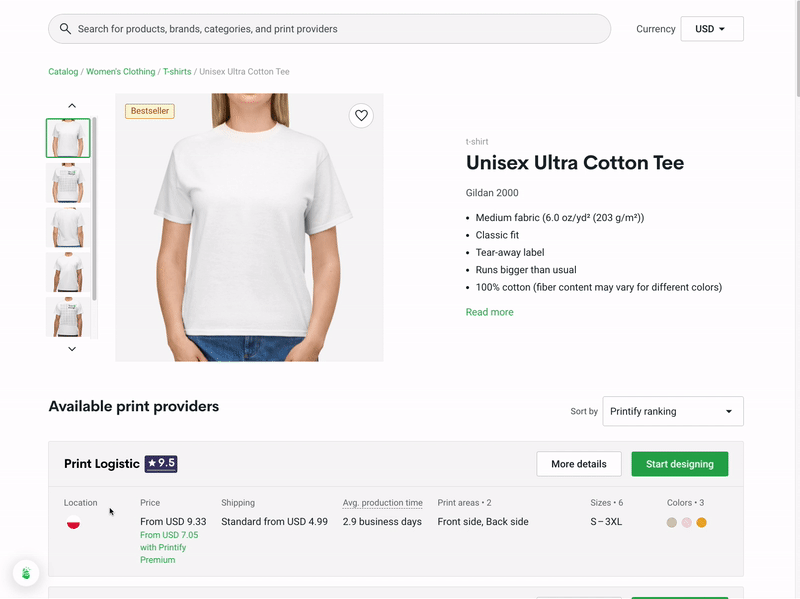 How is the Performance Score calculated?
The Performance Score calculation is based on 3 key performance metrics:
Quality

- this is measured according to how many of the Print Provider's printed items do not meet our standard, or have issues through our complaints.

Production Speed

- this is calculated based on the ability of our Printer Provider to ship orders within agreed times. The status of network and latest production times can be found

here

.
Stock Reliability

- this score is a reflection of how often items are in stock and the accuracy of their stock availability information.
What is the range of scores?
The scores range from 0 to 10, with 10 being the highest score possible.
How often are these scores updated?
Performance Scores are updated weekly based on the performance of the previous 4 weeks, and provide you with accurate information to make your decisions.
If my Print Provider's score is low, what happens to my existing listings or orders?
There's no need to make any changes as long as you're satisfied with the quality of work that your chosen Print Provider has given you so far. If you're not, we recommend ordering a sample from another Provider with a higher rating, or switching a product as long as the shipping and prices still work for your business.