What should I keep in mind when selling on Etsy?
Etsy is a marketplace, which means that it operates a bit differently than a standalone store. There are certain marketplace policies that all Etsy sellers are expected to comply with, in the interest of buyers. One such policy requires that you provide full disclosure about how your products are made.
Note
If you're interested in learning how to open and run a successful Etsy store, join our Etsy POD Bootcamp Course. For more information click
here
.
Products sold on Etsy can be either:
Handmade – made

entirely by the seller

Handmade with production assistance – designed

by the seller, but produced by another company (or person)
If you're using Printify, you should indicate that your products are "handmade with production assistance".
Due to a technical limitation, Printify is unable to provide this product information automatically during the publishing process. However, this information can be added by manually editing the published product in Etsy.
How to adjust your products to comply with Etsy policy
Note
These steps explain how to adjust your Etsy listings using the classic listing experience. To toggle between the classic and new listing experience, click Switch to new/old version in the upper right corner while editing a listing on Etsy.
1. Create a product in Printify and publish it to your Etsy store.
2. In Etsy, navigate to "Shop Manager", followed by "Listings". Click on the individual product listing to edit it.
3. Scroll down to "Listing details". In the "Who made it?" dropdown menu, select "Another company or person".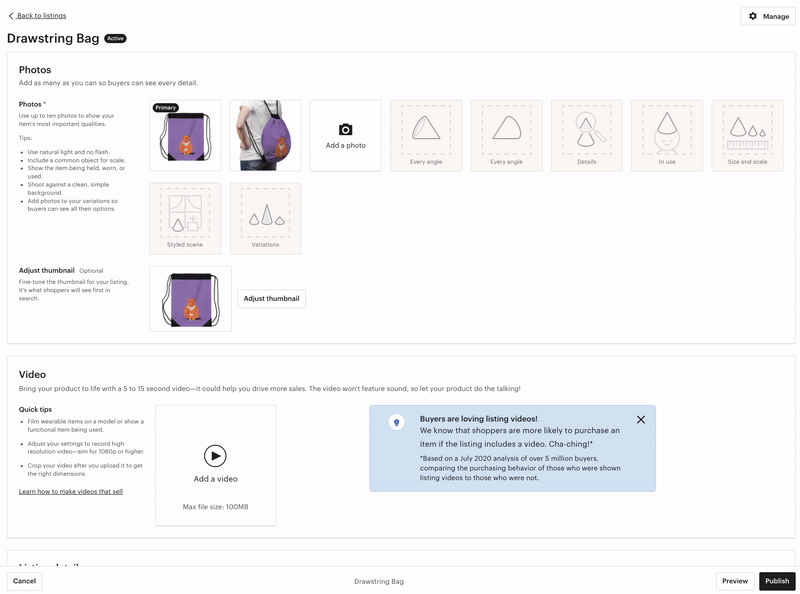 4. Next, scroll down to "Production partners" and click "Add a new production partner".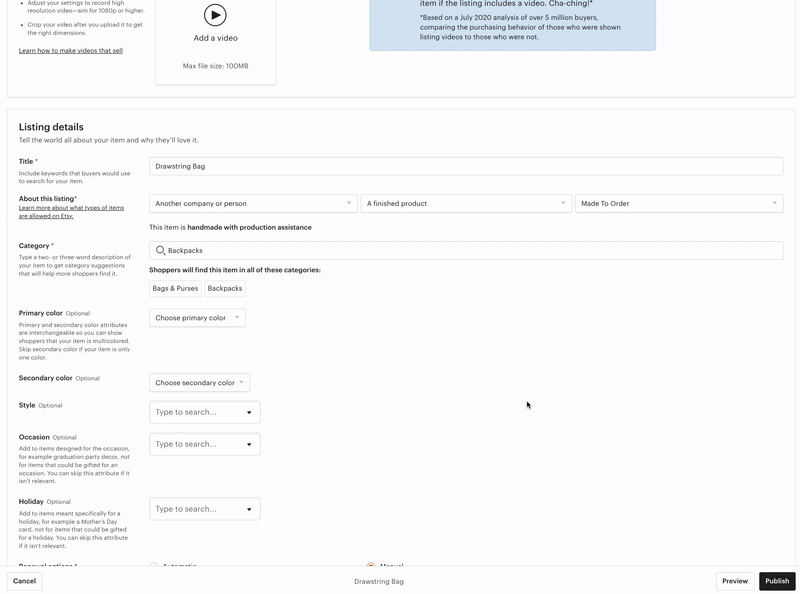 5. To create a new production partner, enter the following details about Printify:
Production partner –

Printify

Location – United States of America
About production partner –

A production partner

About your partnership

:

Select – I don't have the technical ability to make it entirely by myself

Select – I design everything myself

Select – They do everything for me
Once done, you can click "Show preview" to see how it will appear in your store.
It's not mandatory to display the full information about the production partner in your store. If you prefer to keep the full production partner details hidden from your customers, use the toggle as shown below and add "A print shop" in the "Descriptive title" field.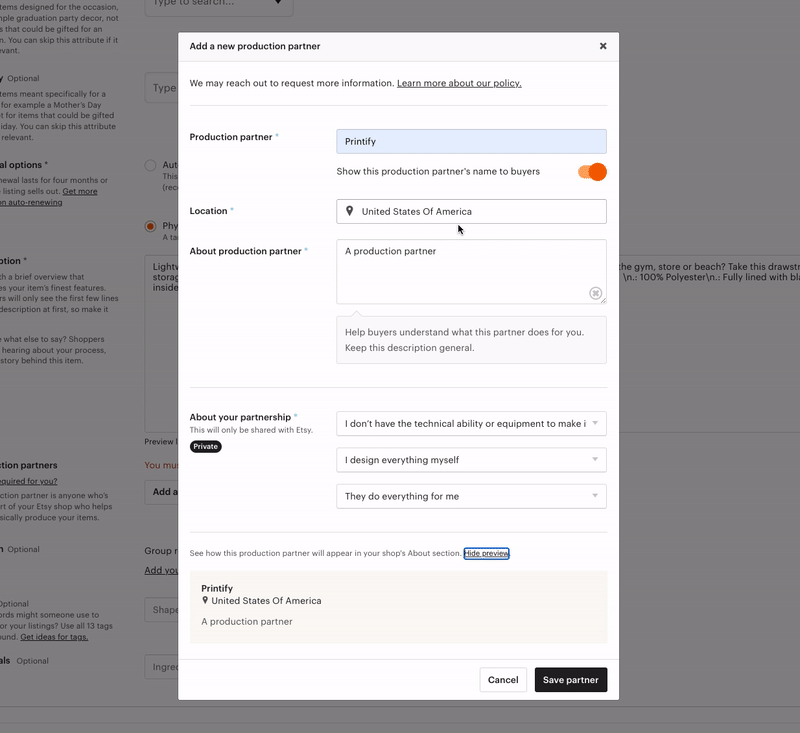 6. Save the production partner and check the box to indicate that you're using this partner.
Once added, this production partner will be available in your list of production partners for every product, and you will only need to check the box.
7. Save the changes you've made to the product by clicking "Publish".
All set! When adding more products to your Etsy store selection, make sure to adjust these settings for each product.