How can I create a product with Printify?
At present, Printify provides over 900 products for your eCommerce store. These products include t-shirts, puzzles, pet beds, and many others that can be personalized with your selected designs. Watch our video tutorial or follow the steps outlined below to create your first product.
Step 1: Choose a product to sell
Choose a product from the Printify Catalog and select the most suitable Print Provider for your needs, based on location, color variants, or other criteria.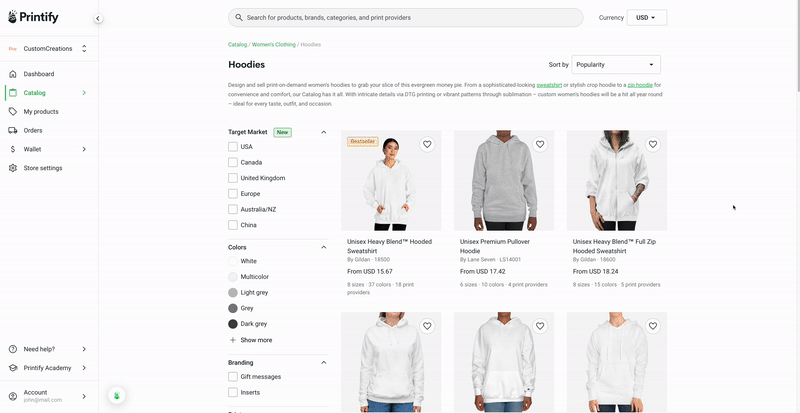 If you'd like to research each product in-depth, we recommend checking the manufacturer's website (applies to branded products only).
Step 2: Upload your design
Upload a high-resolution image of your desired artwork or design, taking into account the pixel requirements for each particular product.
You'll find these requirements in the side panel of the Mockup Generator, as you click on Start designing. Visit our Must-Read Design Guide for additional information.
Note
You can add up to 20 layers (designs) to each print area for most products.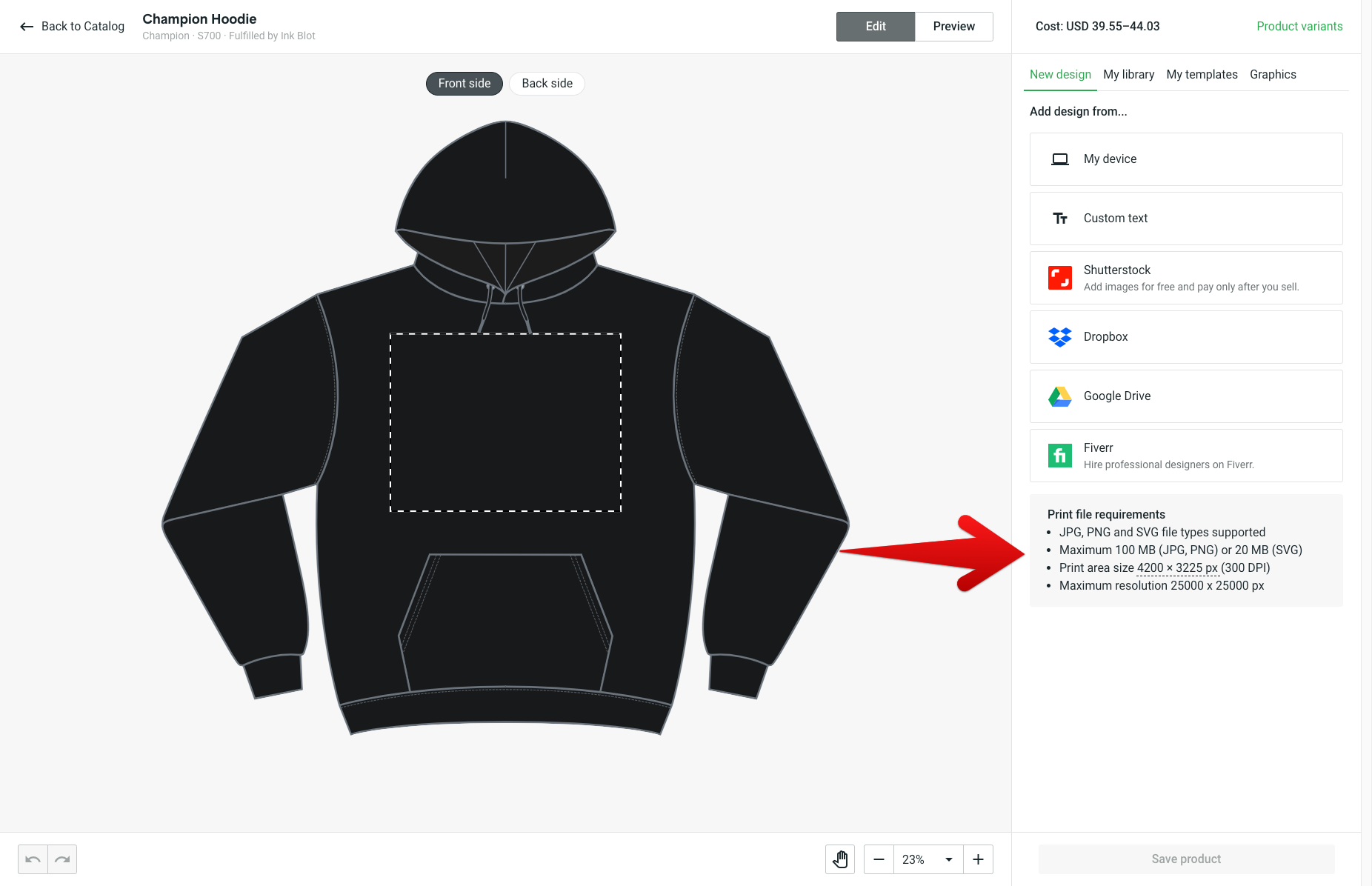 Don't have a design yet? Check out the free designs in the Graphics tab, or try the designs offered by our Shutterstock integration.
Step 3: Place and position your design
Adjust the size and placement of your design. You can use the side panel to select your preferred alignment.
The alignment tool will adjust the alignment of your entire design file. Make sure that your main design elements are centered within the file.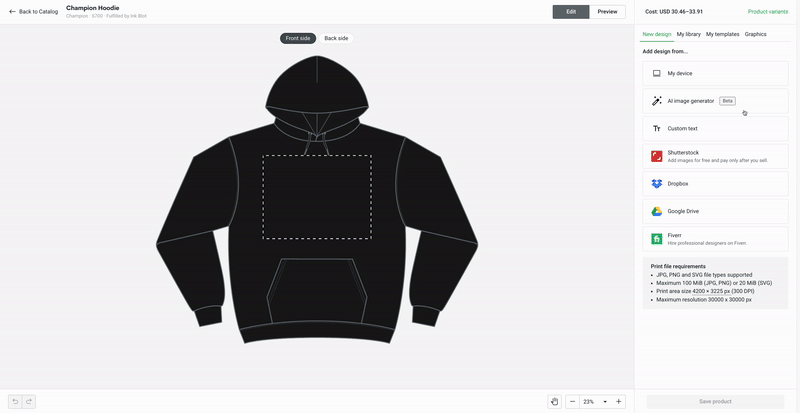 Step 4: Choose your colors and sizes
Next, choose the color options that you want to offer to your customers. Click on Select and choose the colors that you want to make available for this product. All sizes of the selected colors will be automatically added to the product.
Note
The maximum number of product variants for one listing is 100.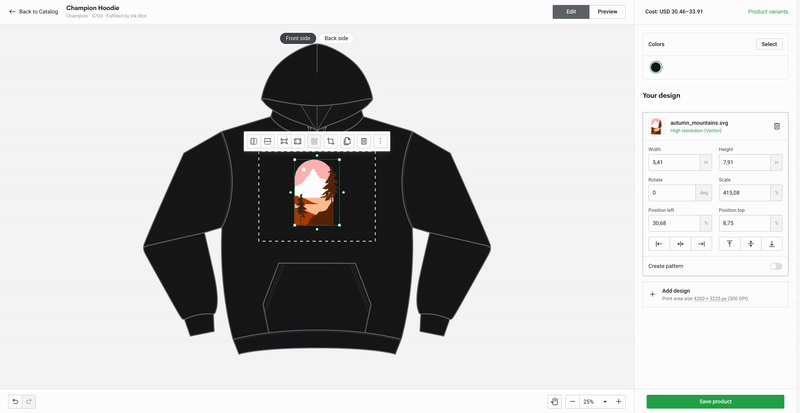 To edit the product size availability and see the pricing, click on Product variants just above. In this menu, you'll also be able to see if the overall availability of each color and size variant.
Variants with multiple Print Provider options have an advantage, as they can easily be routed in case of a stock shortage.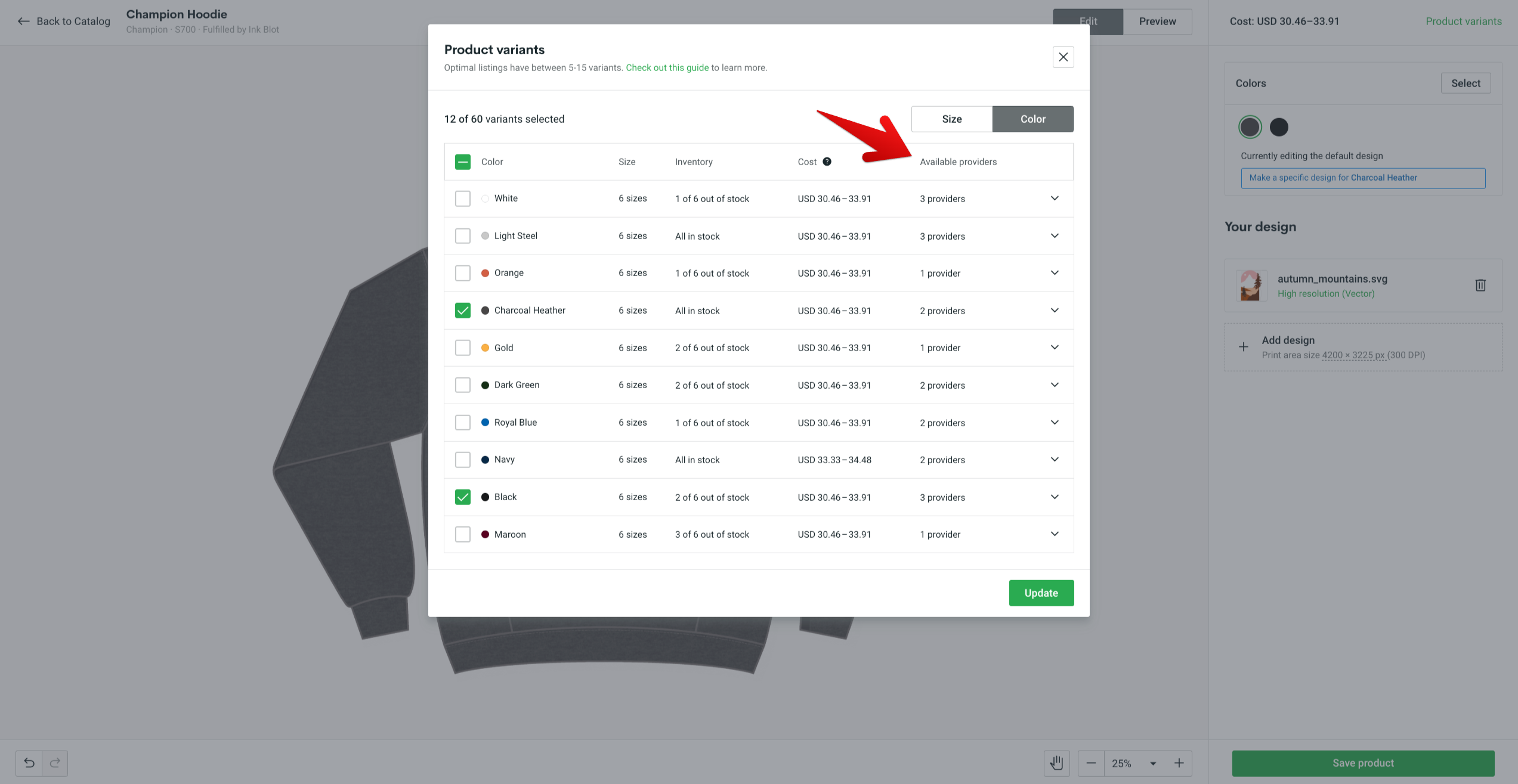 Click Preview to see a mockup of the product once it's printed. You can preview mockups in two different color modes: RGB (bright and vibrant) and CMYK (realistic, closer to the printed result).
Note
When you select a setting in the 'Mockup color mode', you are also choosing the color mode in which the mockups will be uploaded to your sales channel.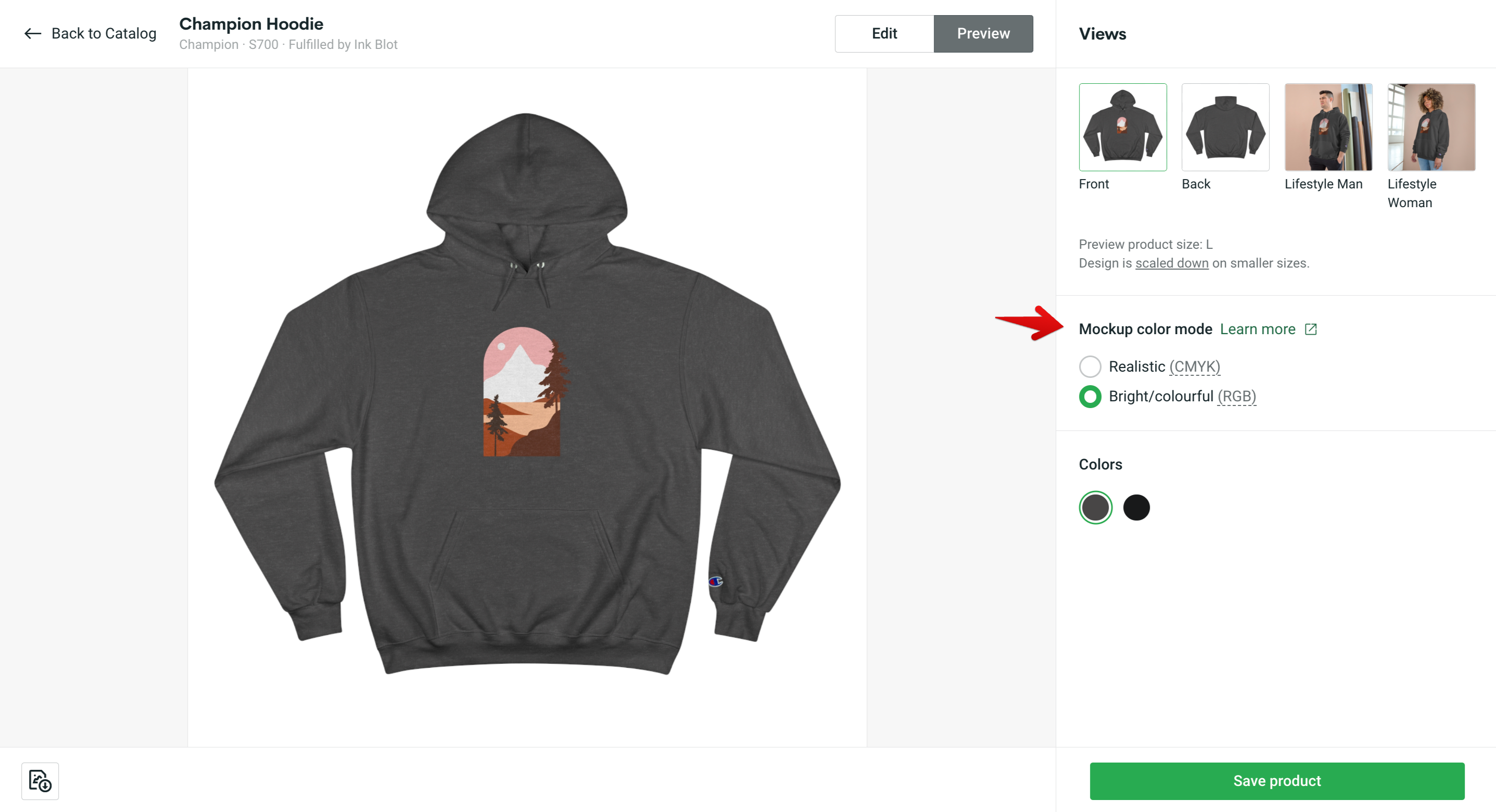 Once you're happy with it, click Save product to proceed to the next step.
Step 5: Edit your product details and prices
During this step you can adjust the product details, such as title, description, and price.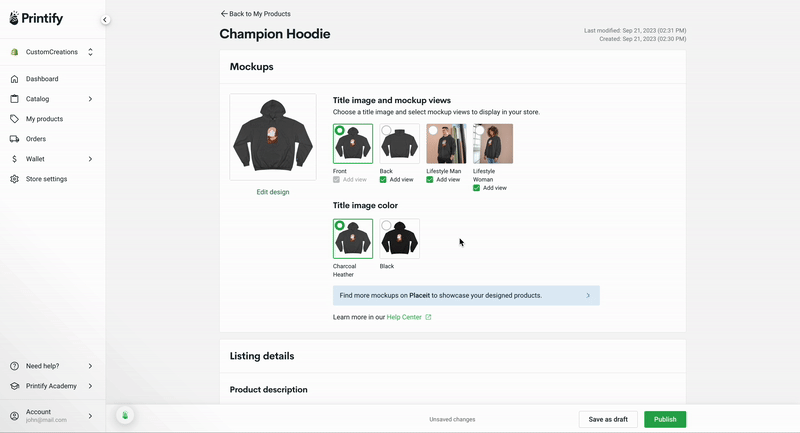 You can preview the pricing of each product variant before you proceed to publish the product. The pricing table allows you to customize the table columns suitable for your needs by selecting or deselecting the column options.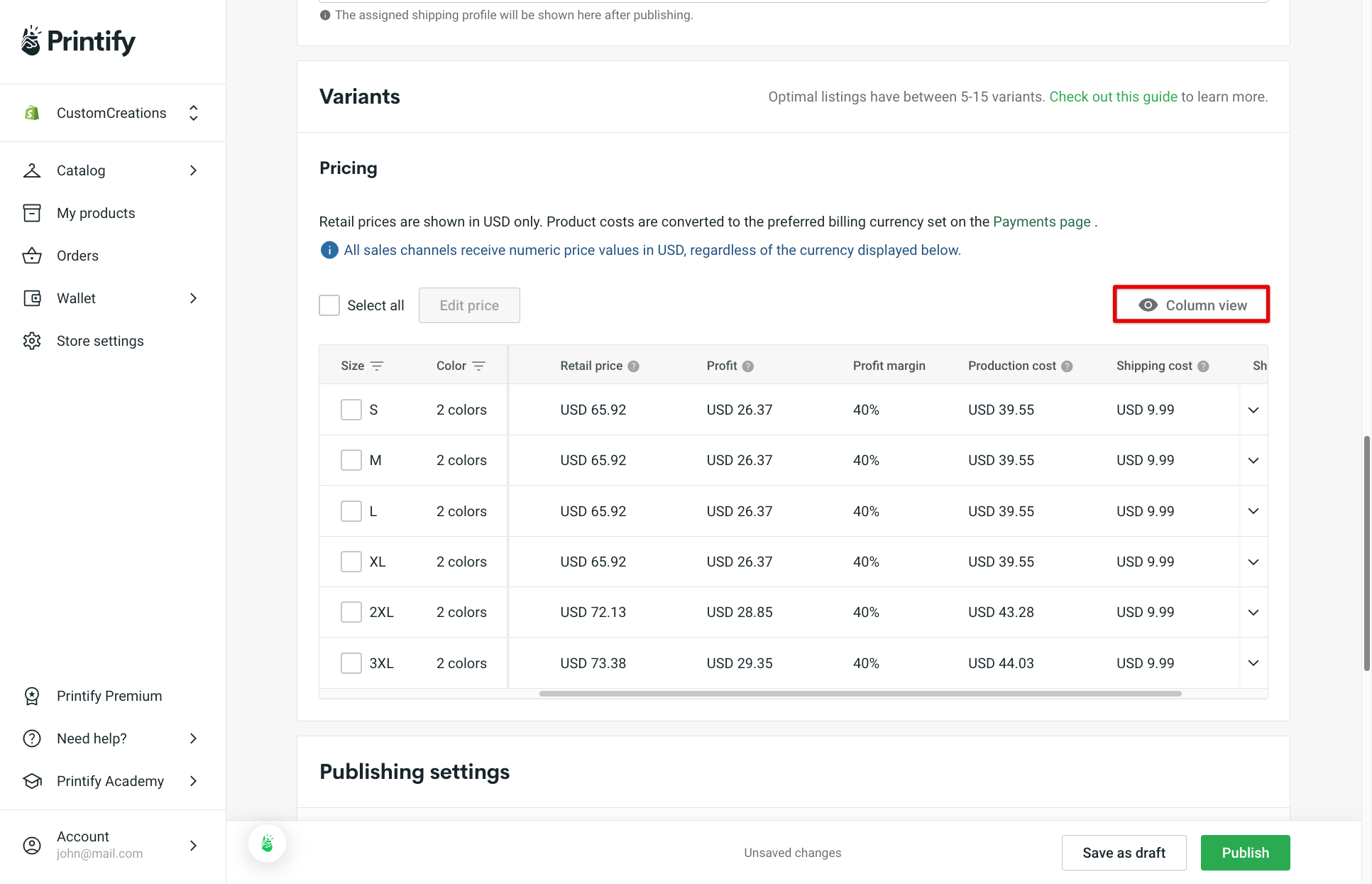 Production cost – the Printify production price that you see in the Printify catalog. This is the amount that Printify will charge you to print the product (in addition to the shipping charges).
Retail price

– this is the price that your store customers will pay for the product.

Profit

– the amount that you will make from each sale (your retail price minus the Printify production price).

Profit margin

– is the percentage of your retail price that is turned into profit.
You can adjust the retail price for all variants at once, or individually by hovering over each variant's retail price.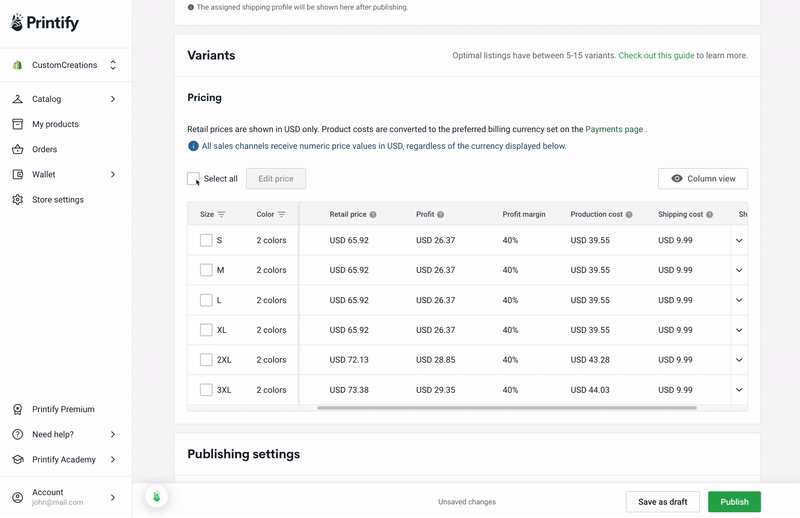 Step 6: Publish the product to your store
During the final step, Shopify and Etsy users can choose between several options of out of stock variant visibility.
If you're using one of our other integrations, note that the out of stock variants will be removed from the product automatically upon publishing. Click here for more information.
Note
If you're selling on Etsy, make sure to visit
this article
for more information on how to comply with Etsy seller policies.