How can I set up the Printify Shipping Calculator for Shopify?
The Printify Shipping Calculator for Shopify offers a seamless shipping solution, automatically applying the accurate shipping rate to your customer's shopping cart.
Unlike the other shipping setup options, the Shipping Calculator allows your customers to easily choose between standard and priority shipping options during checkout, as long as the chosen Print Provider offers these options.
To enable Shipping Calculator, you must have one of the following:
A Shopify plan (if you add the carrier-calculated shipping feature for a monthly fee or switch from monthly to yearly billing)
An Advanced Shopify plan
A Shopify Plus plan
Note
The Printify Shipping Calculator for Shopify not available for Shopify Basic plan subscribers. Shipping prices are provided exclusively in United States Dollars (USD). If your Shopify store uses a different currency, please choose an alternative shipping setup option.
Step 1: Request carrier-calculated rates from Shopify
Start by reaching out to Shopify to request the activation of the carrier-calculated rates feature for your user account if you are using the Shopify plan. This feature is available for a monthly fee or if you switch from monthly to yearly billing.
For users with the Advanced Shopify or Shopify Plus plan, this feature is automatically enabled and does not require a separate request.
Step 2: Enable the Shipping Calculator in Printify
Log in to your Printify account, then navigate to your store settings and click on "Shipping calculator." Check the box next to "Enable the Printify Shipping Calculator for Shopify checkout."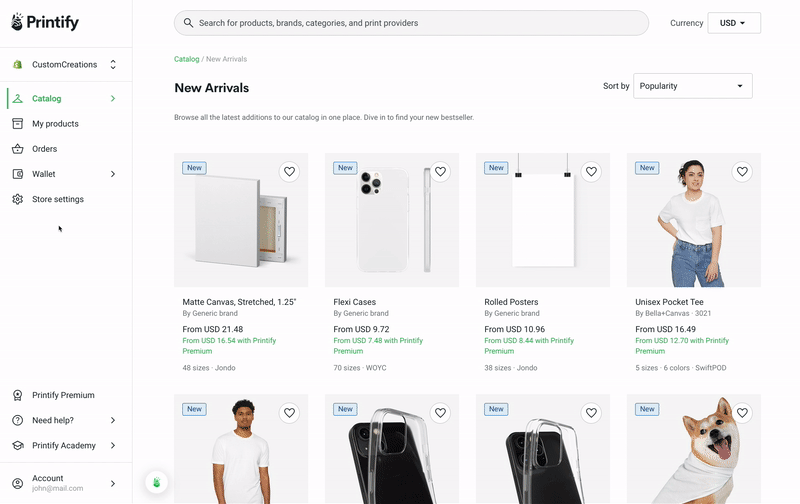 Click on Import Shopify zones directly below that same checkbox. This will enable you to import any existing non-Printify product flat rates, in case you have such products.
This is a workaround solution we've developed to enable you to use the Shipping Calculator with other non-Printify products that use flat rates. As a result, if your customer wishes to purchase a product fulfilled by Printify along with a non-Printify product, we will calculate the exact shipping rate from Printify in addition to the other flat rate.
Note
Make sure that your non-Printify products with flat rates are in a separate shipping profile from "General shipping rates", as otherwise you won't be able to add the same shipping zones to the Calculator.
Step 3: Adjust your Shopify shipping settings
In your Shopify account, go to "Shipping and delivery." Click on "General shipping rates." Then proceed to delete all zones listed there.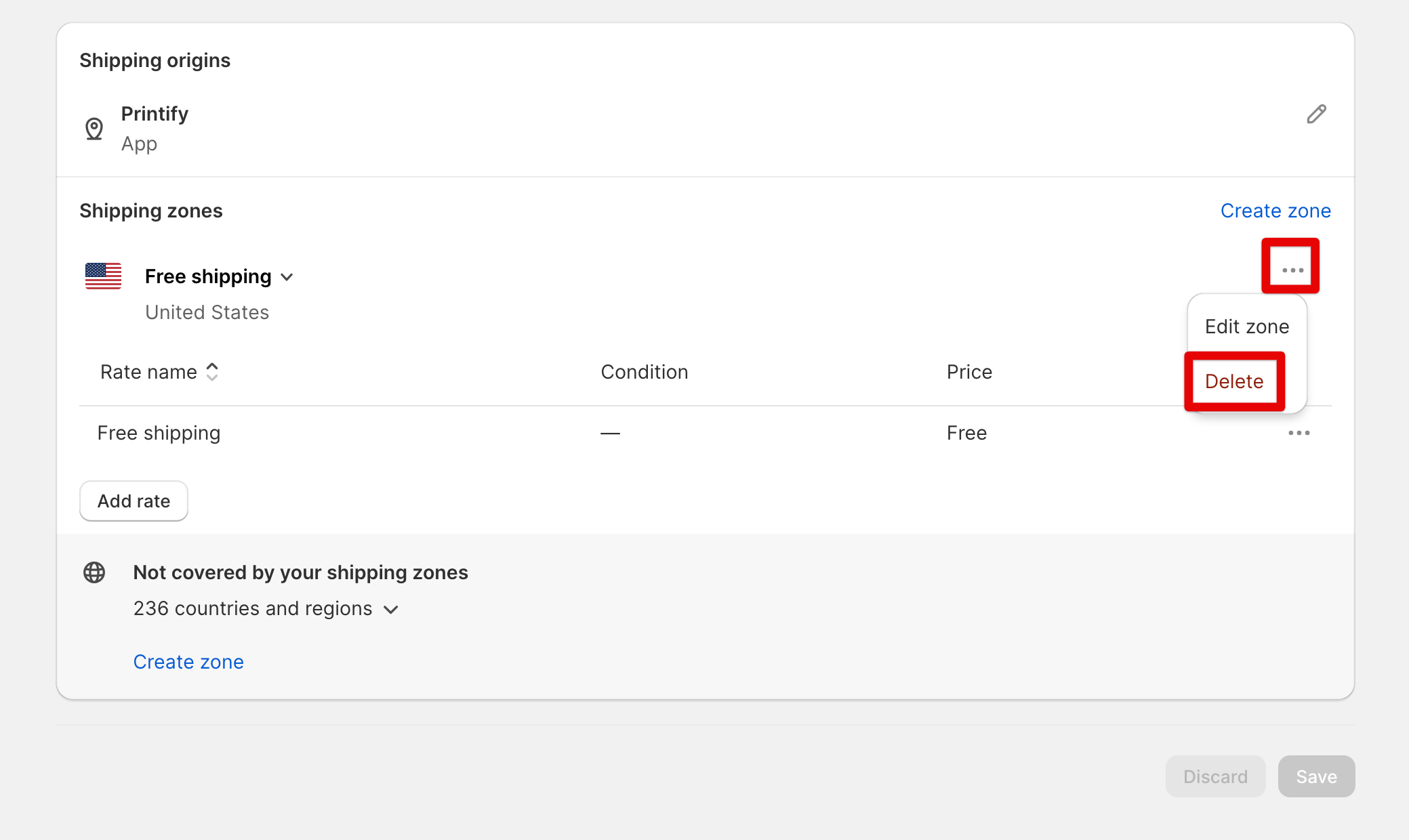 Next, click on "Create zone" to create a new zone in the same shipping profile, with all of the countries selected. You can give this zone any name (e.g., Zone 1).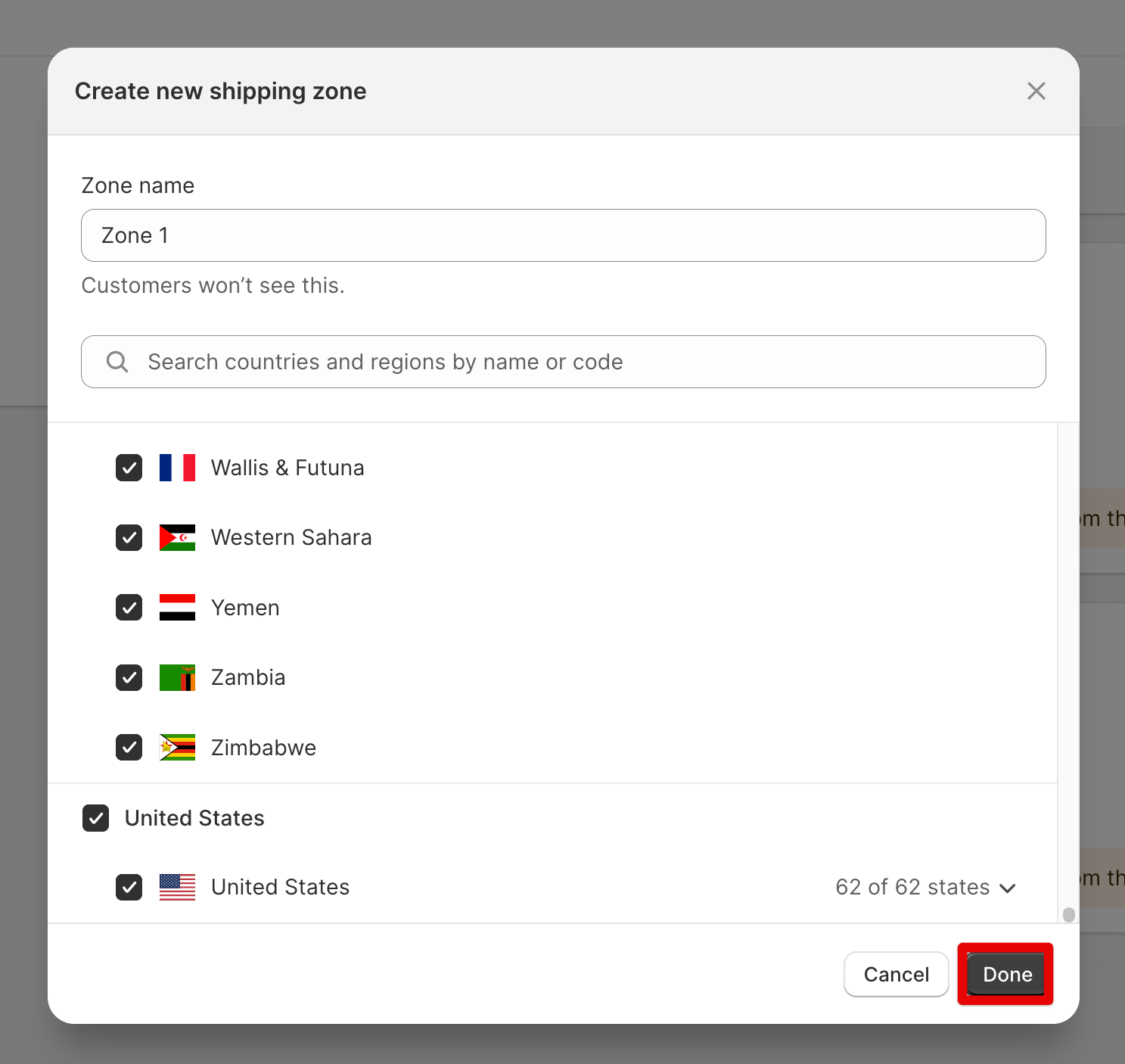 Then, click "Add rate" and select "Use carrier or app to calculate rates." Choose Printify from the drop-down menu, check the box for "Standard," and click Done.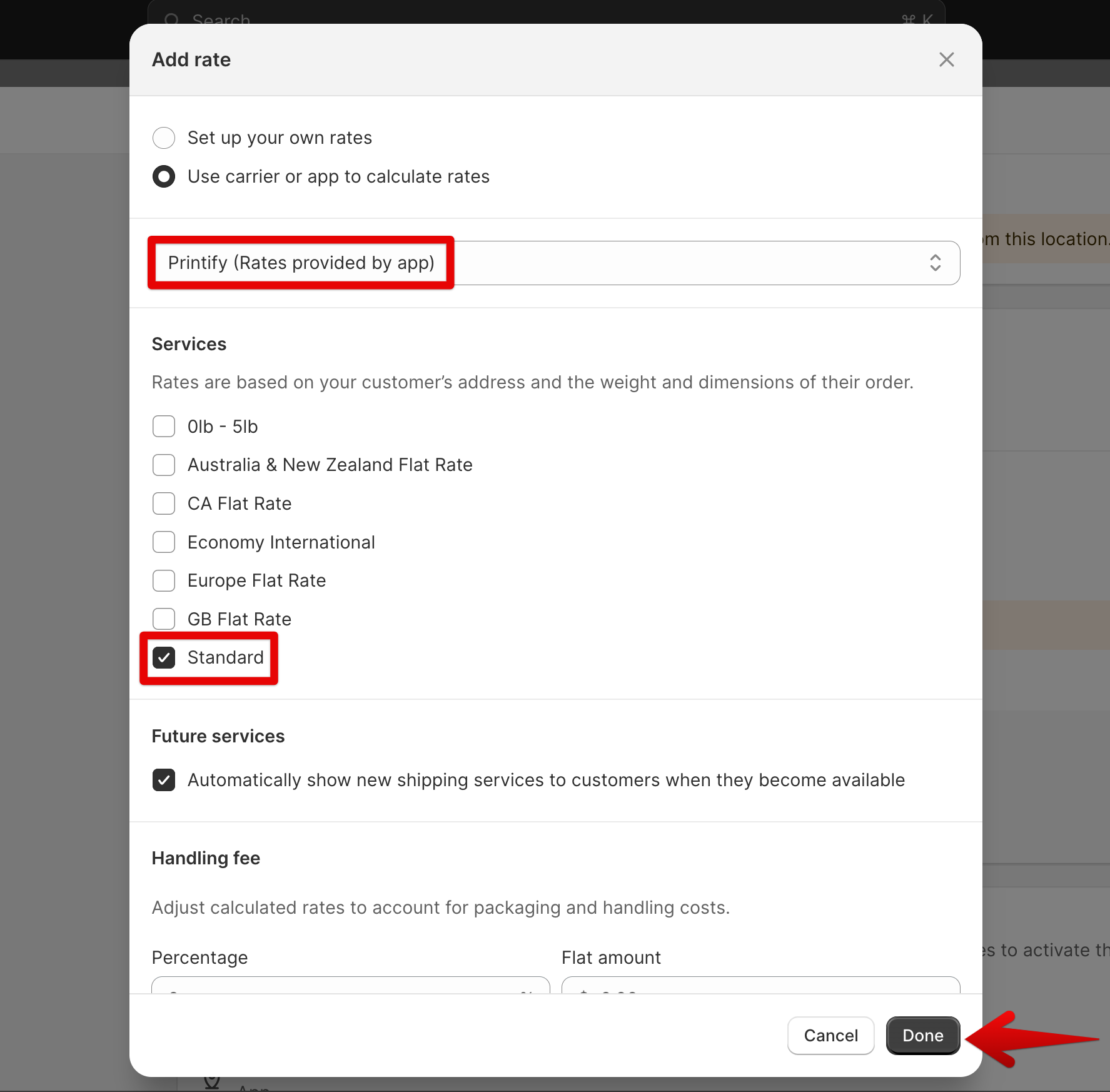 Step 4: Set "General Profile" as the default shipping profile in Printify
Go to your Shipping profiles settings in Printify and select "General Profile" as the default shipping profile. This means that this option will be automatically selected when you will publish Printify products to your Shopify store.

Note
This will be the default shipping profile for future products. If you already published some products to Shopify prior to setup, select all of them in
My Products
and assign them to
"General Profile"
in bulk, followed by republishing.
Your store's shipping is now set up, and you can start making sales. If you need some help, feel free to get in touch with our Support Team.