What is Printify Pop-Up Store?
Note
This sales channel is currently available only to merchants based in the United States and supports shipping to all destinations.
Printify Pop-Up Store is an all-in-one solution provided by Printify that allows you to create an online store. You can create products with just a few clicks and start selling with no upfront cost.
Generate a unique product page with a URL (under Printify.me domain) that can be shared with friends, family, or on social media, allowing anyone to purchase your products.
With Printify Pop-Up Store, customers can purchase products from your store, and the payment is sent directly to Printify. Printify will take care of payment processing, printing, shipping, and customer support while transferring your earnings to your PayPal account.
If applicable, sales tax will be automatically added to the order at checkout as Printify manages the order payment process.
With Pop-Up Store, you won't be charged for any products, which sets it apart from our other sales channel integrations.
What is my store URL going to look like?
Your store URL will contain your store name ([store-name].printify.me), so it has to be unique. For example, if your store name is "Wonderland", then your store URL will be: wonderland.printify.me
You can always change your store name later here if needed. However, note that the store URL will update automatically, and the previous URL won't be valid anymore.
There will be no automatic redirect from the previous URL to the new URL, so make sure you adjust the URL wherever else you need to.
Can I customize the look of my Pop-Up Store?
Yes, you can customize the look of your Pop-Up Store by uploading your logo and adding links to your social media accounts.
To customize the look of your store, navigate to Store settings → Store information. Click Visit store in the top right corner to see what your store looks like.
Additionally, you can integrate your Pop-Up Store with tools like Google Analytics and Facebook (Meta) Pixel.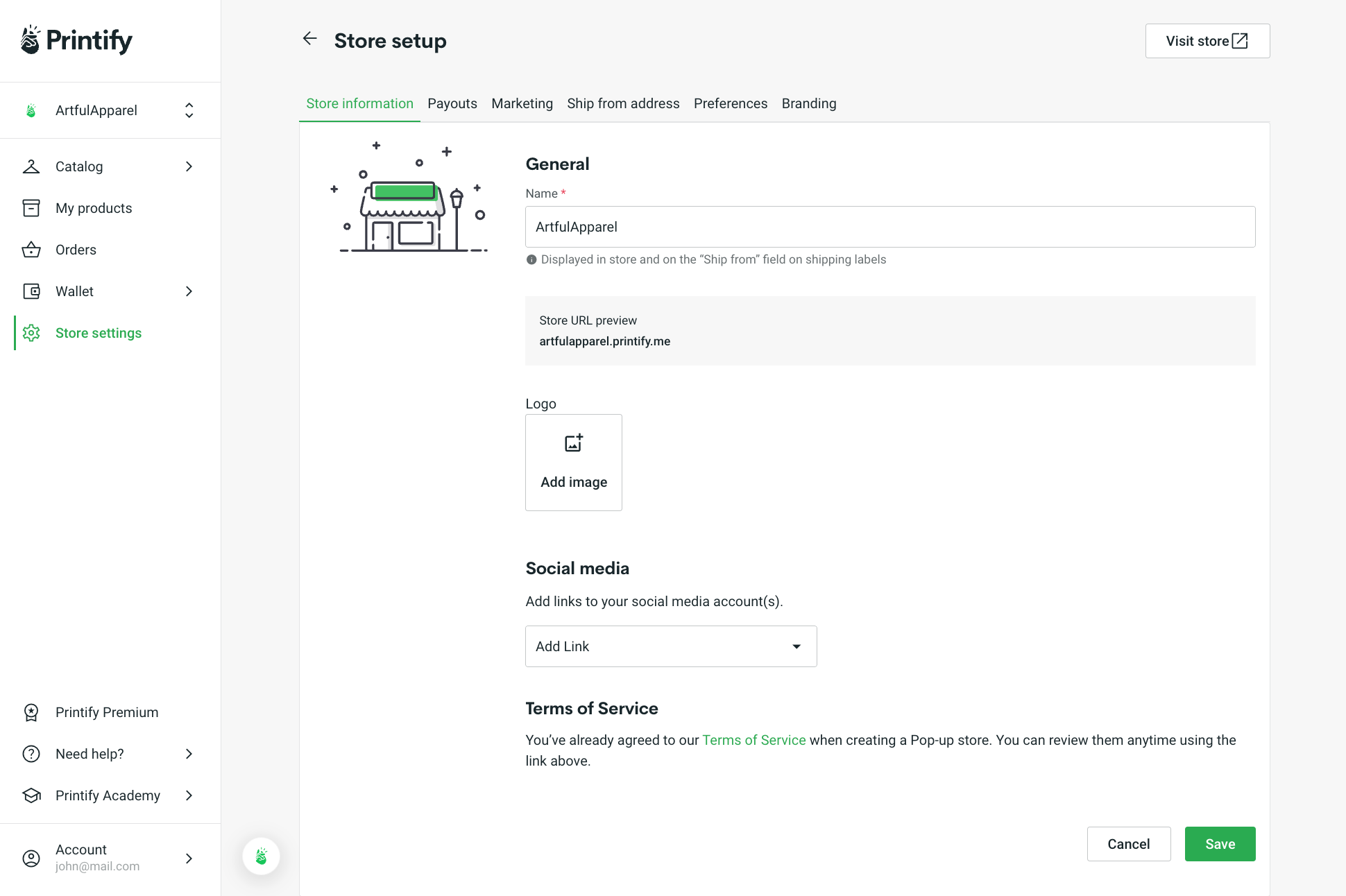 What about the refund and return policy of my store?
Printify Pop-up Store is an all-in-one solution. Printify will take care of customer support for you.
This means that the following standard Printify refund and return policies will apply to your store:
Damaged/defective product
A free replacement or a refund will be offered if the customer reports the problem within 30 days of product delivery and provides the required photo proof.
Returns/exchanges
Since products are only printed once ordered, returns and exchanges are not supported.
We appreciate your feedback on your experience with Pop-Up Store and would love to hear any suggestions that can help us improve. You can share your thoughts by sending an email to
Address issues
If an order is being returned to sender/lost in transit, and an invalid address was provided by the customer, a refund of the order production costs only will be issued to the customer.
Note
We value your feedback on your experience with Printify Pop-Up Store and welcome suggestions for improvement. Please feel free to send us an email at
feedback-popup@printify.com
.